"10 Best Engines": Double Success for BMW EfficientDynamics in the US
A brilliant US debut for the new BMW Advanced Diesel with BMW BluePerformance: renowned specialist magazine "Ward's Auto World" has selected BMW's 3.0-litre inline-six-cylinder twin-turbo diesel engine with SCR system for reducing nitrogen oxide emissions as one of "10 Best Engines" in 2009. Launched in the US market only a few months ago, the 3.0-litre diesel engine that comes with BMW 335d Sedans and BMW X5 xDrive35d models garnered instant praise and went straight to the top ten of the highly acclaimed list, which also features the BMW 3.0-litre twin-turbocharged inline-six-cylinder petrol engine with high-precision injection. This is the third time in succession that the strongest six-cylinder petrol engine in BMW's engine portfolio has scored a slot on the "10 Best Engines" list. With the continuously positive acclaim for its petrol engine and the impressive debut of the BMW Advanced Diesel, BMW is the only car manufacturer whose engines were recognized with two top ten nominations by "Ward's Auto World".
The "10 Best Engines" list was announced on occasion of the North American International Auto Show 2009 in Detroit, where the awards were presented to the winners. Prior to the award-winning ceremony, a jury of experts selected ten most innovative and pioneering powertrains from the diverse and extensive range of engines available in the US. The appearance of the new BMW Advanced Diesel on this ranking list, which has been compiled for 15 years, was as indisputable and unsurprising as the return of BMW's twin-turbocharged and direct-injected petrol engine. In both cases the jury recognized the engines' fascinating performance characteristics and their exemplary efficiency in consumption and emission rates. With these properties, the in-line six-cylinder engines are an impressive reflection of the objectives of BMW's EfficientDynamics development strategy.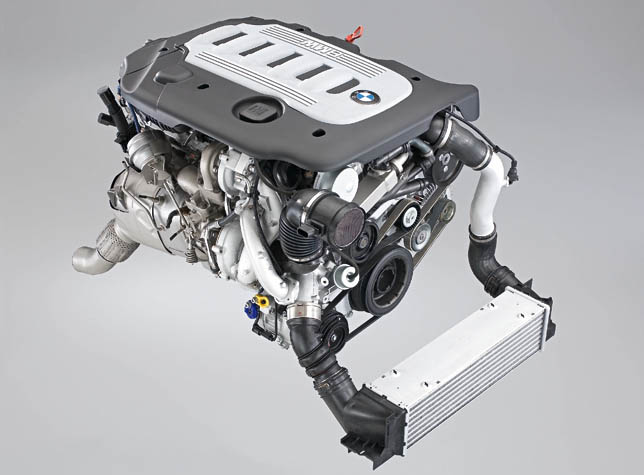 BMW Advanced Diesel: Best Representative of Diesel Technology. "Americans looking for a car with low fuel consumption and a highly pleasurable driving experience will find that our list is their best starting point," the jury sums up this year's nomination of winners. This is particularly true for the first BMW diesel-powered engine launched in the US and Canada. This diesel-powered engine is the only one of its kind presented by a premium manufacturer, that made it to the "10 Best Engines" list for 2009. The new BMW Advanced Diesel with BluePerformance is based on a 3.0 litre in-line six-cylinder all-aluminium crankcase direct-injection Common Rail diesel engine with Variable Twin Turbo technology, which is available in the German car market in BMW 3 Series, BMW 5 Series and BMW 6 Series models as well as in the BMW X3, BMW X5 and BMW X6 and delivers a maximum output of 210 kW/286 hp and generates a peak torque of 580 Nm.
Due to the SCR (Selective Catalytic Reduction) system with urea injection for reduced nitrogen oxide (NOX) emission, which is installed in addition to a diesel particulate filter, the BMW Advanced Diesel with BMW Blue Performance meets even the most stringent emission regulations such as those encountered in California and other US federal states. Therefore, the jury members at "Ward's Auto World" agreed on the title "best representative of diesel technology". The experts also expressed their confidence that both the BMW 335d and the BMW X5 xDrive35d models could outperform even hybrid models made by other manufacturers, which may bring about a breakthrough for diesel engines among reluctant US-customers.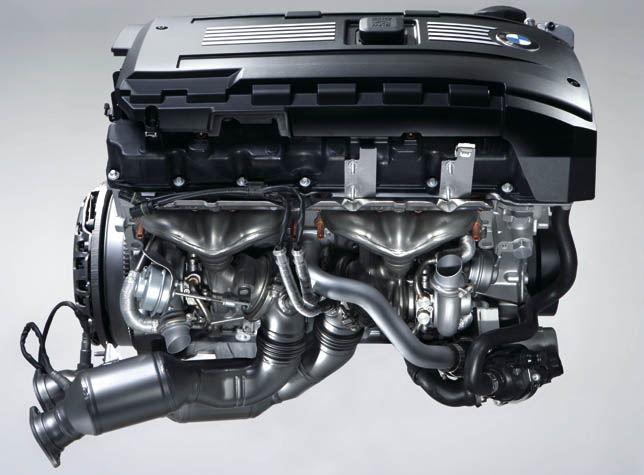 Serial Winner: Twin-Turbocharged Inline Six-Cylinder Petrol Engine with High Precision Injection. Renowed and well-established all over the world, the second BMW engine featured among the "10 Best Engines" list, the twin-turbocharged inline-six-cylinder petrol engine with high-precision Injection impresses drivers with its spontaneous build-up of power and performance, whopping torque and smooth performance across all load ranges. In the German car market, the 225 kW/306 hp powertrain proves its worth in BMW 1 Series and BMW 3 Series models, in the BMW X6 xDrive35i and will also be featured in the new BMW Z4 sDrive35i. The verdict of the jury at "Ward's Auto World" was plain and simple: they called BMW's twin turbo engine "the best of all times".
With its combination of an all-aluminium crankcase, twin turbo charge and high-precision direct petrol injection that is suitable for all international car markets. the six-cylinder engine provides significant advantages in terms of weight and efficiency compared to other - often larger engines - with more cubic capacity of its performance category. Therefore, this engine is symbolic of sheer driving pleasure at a particularly high performance level and with modern consumption and emission rates. Numerous awards from renowned experts reflect the engine's high acclaim among professionals. In the US, the twin turbo petrol engine not only returned to the list of "10 Best Engines" for the third year in succession, but also won the title "International Engine of the Year" twice - in 2007 and 2008.