2012 Audi A8 Hybrid - production version
Audi has finally announced that the new Audi A8 Hybrid will hit the showrooms this spring. The luxury vehicle is the only European car in this segment. Furthermore, it is the world's most efficient luxury-class hybrid sedan.
2012 A8 Hybrid is powered by a 2.0 liter TFSI and an electric motor with combined power of 245PS (180 kW) and 480Nm (354 lb-ft) of torque. 0-100 km/h in 7.6 seconds and a top speed of 235 km/h (146 mph). It returns whopping 37.3 mpg (US), which is 6.3 liters per 100 km on combined cycle and CO2 emissions of 144 g/km.
The 2.0 liter TFSI engine features two balancer shafts offset second-order inertial forces to ensure virtually vibration-free and pleasantly quiet operation that goes well with the luxurious character of the A8. All other components are optimized to minimize friction ensuring smooth run. The flow-rate-regulated, pressure-controlled oil pump further reduces fuel consumption.
The electric motor has 45PS (33 kW) of power and 211Nm (156 lb-ft) of torque. Its full power is available practically right from standstill and contributes to a sportily powerful start-up.
The power is put on the road through an 8-speed tip-tronic gearbox.The propulsive power of both drive systems is applied to the road through the front wheels.
The A8 Hybrid comes with state-of-the-art lithium-ion battery mounted in the rear section of the vehicle. It is lighter and substantially more powerful than the previous version. It has a high-strength housing, and a ventilation module ensuring that it always operate within the ideal temperature range.
However, the luggage compartment doesn't suffer at all – the capacity is 400 liters.
The hybrid drive is designed for fully electric-powered driving up to 65 km/h (40 mph) and for a distance exceeding two kilometers – especially well-suited for driving in the city or residential suburbs.
So everything on paper is just perfect and have to wait a while to see, how the new A8 Hybrid handles the real conditions.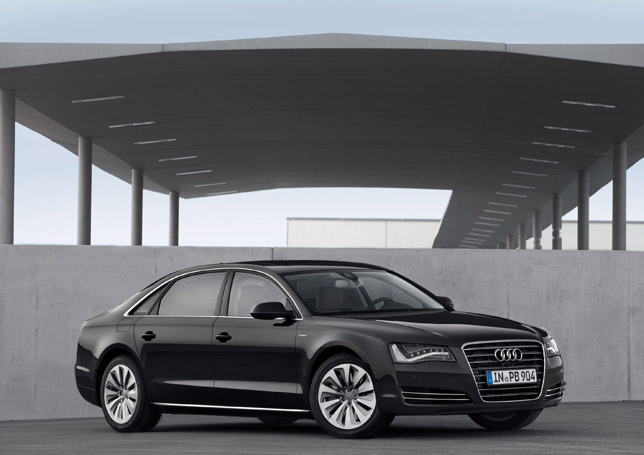 2012 Audi A8 Hybrid - production version
Source: Audi