2014 Audi A3 Sportback g-Tron - Price €25,900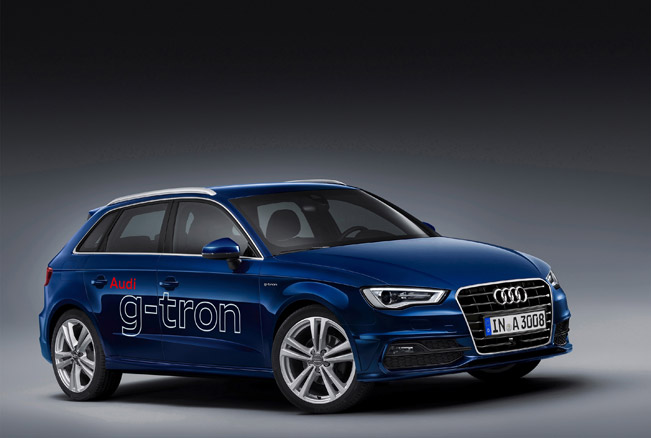 Audi is now ready with the 2014 A3 Sportback g-Tron, which is already available on the market with pricing starting from €25,900. The super-efficient hatchback was introduced at the 2013 Geneva Motor Show.
It is powered by a 1.4 liter TFSI with 110HP (81 kW) and 200Nm (147 lb-ft) of torque. It is able to run not only on gasoline, but also on natural gas and Audi-generated e-gas. In e-Gas mode, the A3 Sportback g-Tron is "entirely CO2-neutral". 0-100 km/h in 11 seconds and a top speed of 190 km/h (118 mph), which is pretty decent dynamics for such low power.
The car comes equipped with two gas tanks that carry 7 kg (15.3 lbs) of compressed natural gas (CNG) at a maximum pressure of 200 bar. The tanks have been manufactured from CFRP and when at their full capacity they weigh 27 kg (59.5 lbs).
The average gas consumption is around 3.2-3.3 kg / 100 km, which means running costs of about €3.50 / 100 km.  The maximum range on CNG is 400 km (242 miles) and on gasoline, it can go up to 900 km (559 miles).
"In addition to our e-mobility developments, the Audi e-gas project is an important pillar of our sustainability strategy – as is the development of other synthetic fuels", commented Prof. Dr. Ulrich Hackenberg, Board Member for Technical Development at AUDI AG.
Audi is already operating a research facility for the production of Audi e-ethanol and e-diesel with its partner Joule in Hobbs, New Mexico. Moreover, the company is conducting research into the synthetic manufacture of Audi e-gasoline in cooperation with Global Bioenergies.
Source: Audi