2014 Citroen DS 3 De La Fressange Paris Concept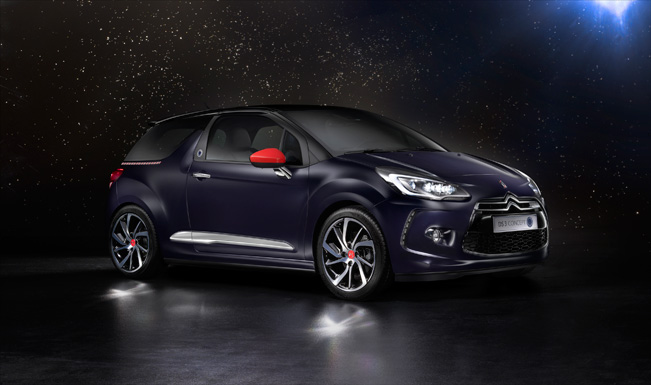 The DS styling Centre and Ines de La Fressange Paris have united in a bold attemp to develop two unique, elegant and modern concepts, on both the the DS 3 and the DS 3 CABRIO.
The collaboration between DS 3 and Ines de la Fressange Paris, who share the same ideas for elegance and modern design, is one that contributed to the creation of these two concept models.
The first thing you notice when you see the two unique Citroen cars is the difference in their bodywork colours.  The DS 3 is covered in satin-finish Ink Blue, with a beautiful shiny Onyx Black roof. On the other hand, the DS 3 CABRIO is trimmed in lustrous "Perla Nera Black", showing us an "Infinite Blue" roof with an "Infinite Blue" soft top. There is lots of room for personalisation, thanks to the new color, the DS 3 CABRIO. Both versions are fitted with 17''Aphrodite diamond-cut wheels which add a unique styling.
Both concept vehicles feature the exclusive "Ines Red" door mirror housings. The DS 3 gains a wide range os features, including: "Aéropostale" adhesive signature in red, white and blue, across the back of the car, an enamel-effect emblem with the words "Ines de la Fressange Paris" on the central pillar. Both brand's history and luxury is represented from the blue, white and red colours.
DS 3 & DS 3 CABRIO Ines de la Fressange Paris Concept  both  impress us with a leather covered interior  of exceptional quality which is placed also on the headrests. The three emblematic colours of the union are put in a matched layout. The seats are covered in white topstitching.
The two concepts, DS 3 & DS 3 CABRIO, are amazingly styled styled and illustrated to perfection.
Source: Citroen