2015 Mercedes-AMG SLC 43 Is Finally Here! And the Wait Was Worth It!

The new Mercedes-AMG SLC 43 combines the German engineering excellence with the driving dynamics of AMG masterminds. The vehicle is geared with a 3.0-liter V6 Biturbo power unit that develops a total of 367hp (270kW) that surprisingly consumes just 7.8 liter of fuel per 100 kilometers, which  means it is with 0,6 liters/100km more efficient than its predecessor. But of course, this is not the most interesting feature of the new Mercedes-AMG alliance. Further enhancements include especially developed suspension and model-specific mounts and numerous more engineering wonders and solutions that altogether make this vehicle unique and distinctive.
Capable of going from 0 to 100km/h (61mph) in just 4.7 seconds this sweetie also has a top speed of 250km/h (138mph). But despite the eye-catching speed capabilities, ALC 43 also excites with its completely restyled drivetrain system. So, let's check it out. But first, the looks.
Exterior design
Wider and more muscular this beast dominates the road with the typical A-wing air deflector, large outer air intakers and silver chrome front splitter that ensures optimal flow of air. The sides strike with the distinctive 18-inch AMG multi-spoke light alloy wheels in glossy black and high-gloss black accents. And further exclusivity is achieved via the divesity of roof variants. There is even a choice for panoramic roof with large glass and panoramic roof with MAGIC SKY CONTROL. How cool is that?

Interior design
The interior remains dynamic and detailed. The multifunctional sporty steering wheel in black Nappa features special button section and special red stitching that further enhances the feel of exclusivity. The sports seats are ideal addition to the overall sporty spirit of the vehicle and provided that the upholstery is dominated in sun-reflecting Nappa leather the interior is really a wonderful place for one to be. In fact, the instrument panel, beltlines and door panels are also covered in high-grade leather.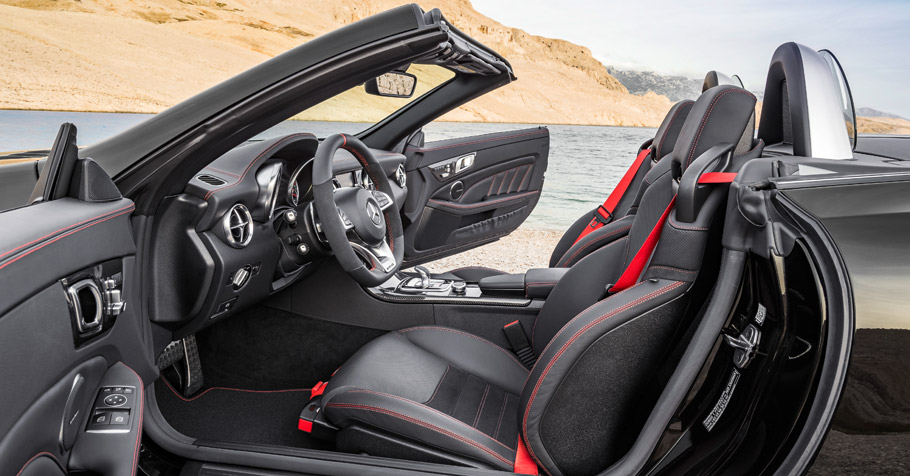 Drivetrain system
So, let's move on to the interesting part. The vehicle comes with special 9G-TRONIC sport transmission that is especially created to match the requirements of the SLC 43. This system offers incredibly smooth and fast gear shifts and also comes with five selectable modes (Eco, Comfort, Sport, Sport + and Individual) for even more rewarding driving experience.
Along with the transmission, this sweetie offers and especially made suspension system or the optional AMG REDE CONTROL sports suspension with adjustable damping that is especially designed for high lateral acceleration and reduced roll.
SEE ALSO: 2015 Mercedes-Benz SLC: Excellence and Passion in a Single Vehicle
Furthermore, the AMG high-performance brake system ensures excellent deceleration, high fade resistance and enhanced brake control The large and internally ventilated brake discs are capable of absorbing vast amount of braking energy.

Additional equipment
The new AMG SLC 43 comes with numerous customizable options and some additional packs. One such is the Handling package that offers numerous enhancements for the sporty and circuit-oriented drivers. Other optional equipment are the LED Intelligent Light System, numerous wheel/tire combination, AMG Night package, exclusive exterior finishes and numerous connectivity gadgets.
Source: AMG