2017 AMG C63 Coupe Will Fight For the Sportiest C-Class Model Prize

2017 AMG C63 Coupe is finally here and it has a lot to demonstrate. One of the world's most distinctive vehicles strikes with the well-known high-end features and some additional goodies. And with the touches here and there by the AMG crew the 2017 C-Class is ready to rule over the streets.
Brand's latest creation will celebrate its world premiere on September 15, 2015 at the Frankfurt International Motor Show and will be available for purchase in ne summer of 2016. In fact, we do expect that this model will bring vast media and customer attention. And no wonder: geared with the AMG 4.0-liter V8 biturbo engine, producing a total of 469 hp (344 kW) in standard trim or 503 hp (369 kW) with the C63 S pack and with some exclusive engineering wonders this vehicle surely will set new benchmark for all other hi-end sport vehicles.
Exterior
The Mercedes-AMG C63 Coupe fascinates with proportions. The vehicle comes with exterior design noticeably different from  the C-Class Coupe model. As you can see, the vehicle comes with increased track width and redesigned front and rear fenders along with wide wheel arches. All these changes contribute to the sportier and more aggressive stance of the vehicle. After all, we are talking about the sportiest C-Class up to date, aren't we?

Furthermore, the front strikes with low arrow-shaped twin blade grille and A-wing front spoilers, while all the lines and contours contribute to that stylish and elegant look. The sides of the Coupe demonstrate some unique profile, that is further accented by the large wheels.
The back of the vehicle is completely restyled and now includes a diffuser insert and two chrome-plated twin tailpipes. The optical air outlet openings serve not only as an elegance booster, but also improves the air flow, allowing it to have some enhanced aerodynamic features. And the sharp blade not only contributes the nice looks but also noticeably reduces the rear-axle lift.
Interior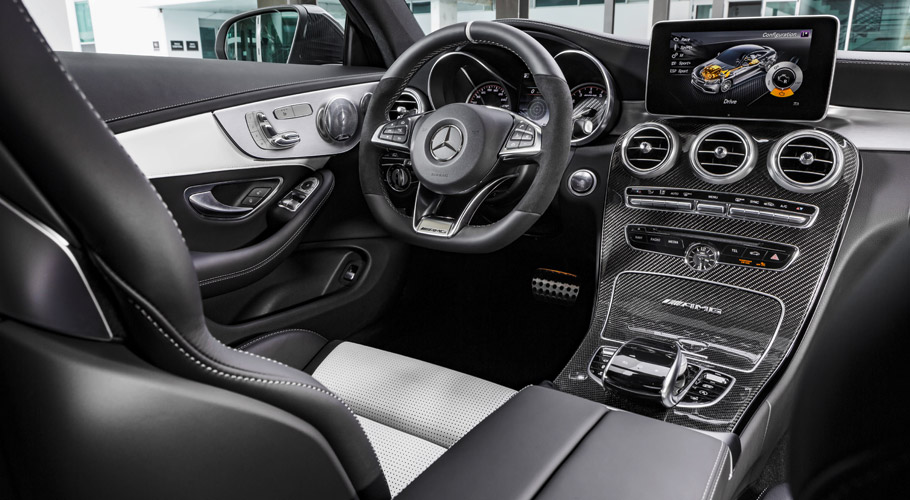 2017 C63 Coupe's cabin welcomes every willing and brave man to a place of high quality materials and pleasant to touch components. There are numerous AMG controls and buttons and of course the vehicle is geared with sports seats, but if there is someone still unsatisfied, the vehicle could be ordered with special Performance seats.
Performance
The vehicle, which is the only one in the segment to be geared with an 8-cylinder biturbo engine completes the 0 to 100 km (0 to 62 mph) sprint in just 3.8 seconds  for the C63 S Coupe and 3.9 for the C63 Coupe model.  And with this impressive start the C63 Coupe has a top speed of 279 km/h (155 mph) and the C63 Coupe S is a bit faster: 324 km/h (180 mph).
As you might know, the 4.0-liter 8-cylinder engine has already been proven in the C63 Sedan and in the AMG GT S vehicle. What is so special about the unit is that it features two turbochargers that form the so called "hot inside V". This contributes for some compact construction, improved response and lowered exhaust gas emissions.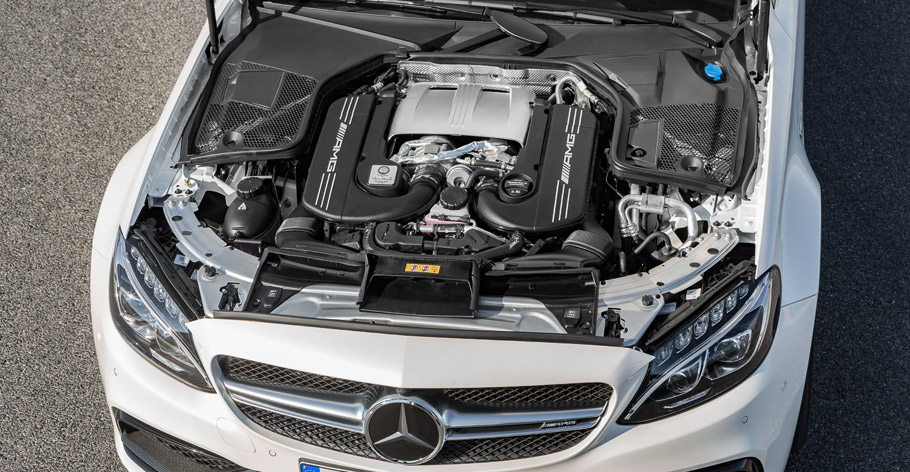 AMG also contributed to some gearshift improvements. The special AMG SPEEDSHIFT MCT 7-speed sport transmission system comes with tailor-made dynamics and high flexibility. Whether the driver prefers the automatic or manual variant, he will instantly tell the difference from older models: the shifts are executed faster and smoother.
But the engine and the gearbox are not the only one that make the 2017 C63 Coupe so flexible. The vehicle also comes with redesigned suspension system. A four-link front suspension with racing-style brake connections allow greater acceleration, while the rear axle contributes for more precise wheel control and increased stiffness. Further measures include AMG-specific wheel carriers, stiffer elastokinematic tuning and higher negative camber.
SEE ALSO: LUMMA Design to Present Mercedes-Benz GLE Coupe CLR G 800 in Frankfurt
Furthermore, the C63 S offers and even more precise control via the 3-stage ESP with "ESP ON", "ESP SPORT Handling Mode" and "ESP OFF". There is really something for someone.
And there is one more goodie. The C63 S Coupe is equipped with dynamic engine mounts that help for further resolve conflicting aims of comfort and performance. Nice, huh?
Safety
And with all this on board, the latest Mercedes-Benz vehicle also needs some safety measures. First of all the vehicle is geared with ATTENTION ASSIST drowsiness detection system and COLLISION PREVENTATION ASSIST PLUS, which helps to prevent rear-end collisions. And of course, there are numerous more optional safety additions.
Beautiful, stylish and powerful. This vehicle surely deserves some attention.

Source: Mercedes-Benz