ABT 2012 Audi A5 Sportback - Stylish, Sporty and Fast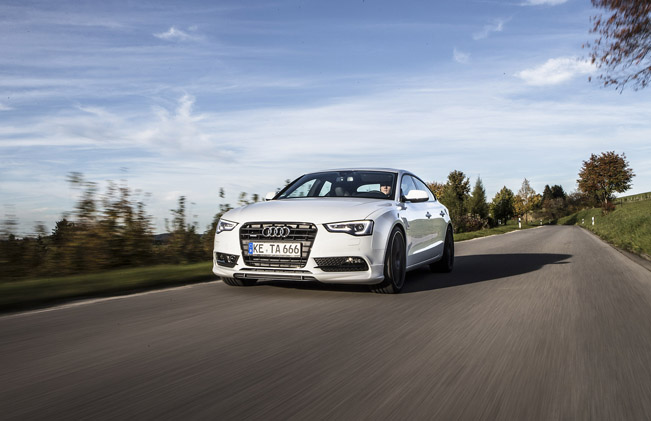 ABT Sportsline has presented their latest project based on the facelift version of Audi A5 Sportback. The "Sportback" is characterised by an unobtrusively elegant body that makes it really stand out. It gets both styling and performance modifications.
The exterior received an aerodynamics package including a new front lip spoiler and a rear diffuser. There is also a sports exhaust system, big brake kit and two suspensions -25 mm or whopping -50 mm from the ride height. The car rolls Sporty CR or DR alloy wheels, available in 19" or 20".
The engine range gets significant power upgrades. The 1.8 liter TFSI is boosted to 211HP (155 kW) and 370Nm (273 lb-ft) of torque. The more powerful 2.0 liter TFSI now can deliver 270HP (199 kW) and 400Nm (295 lb-ft) and the 3.0 liter TFSI have massive power of 380HP (279 kW) and 500Nm (369 lb-ft).
The diesel variants can be boosted, too. The 2.0 liter TDI can be upgraded to produce 205HP (151 kW) and 420Nm (310 lb-ft). The 3.0 liter TDI is able to have 300HP (221 kW) and 570Nm (420 lb-ft).
There is no doubt, that Abt created impressive A5 Sportback.
Source: ABT