AC Schnitzer Wheel-Tyre Combinations for the new BMW Z4
We are delighted to welcome the latest member of the BMW family and - in good time for the official launch - can already supply a range of AC Schnitzer wheel and tyre combinations for the new Z4 Roadster.
In the second generation Z4, BMW has moved away from the classic Roadster top. The new BMW Z4 to be launched in May 2009 - instead of its "soft cap" - has a folding hard top, making it a Roadster and Coupé in one.
The dimensions of the BMW Z4 have grown perceptibly, and give the two-seater a more roomy interior.
For engines, initially the six-cylinder plants known from the 1- and 3-series BMW will be used.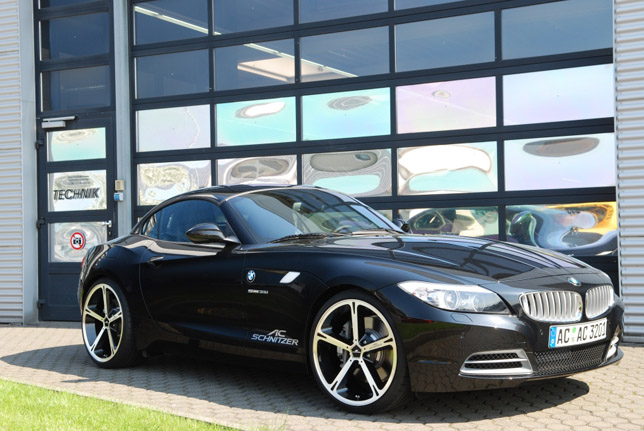 Naturally we are working flat out on a complete AC Schnitzer product range for the new BMW Z4 to cover all areas of the vehicle. We are planning performance upgrades, a sports rear silencer and tailpipe trims, suspension optimisation, aerodynamic components and interior accessories.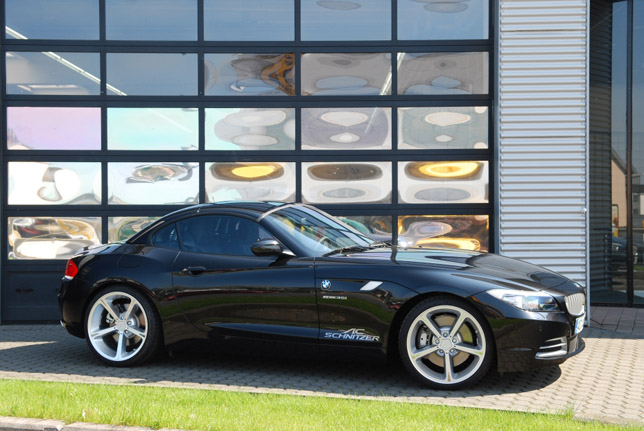 The wheel and tyre combinations already available are listed in the overview:
AC Schnitzer Wheel Tyre Combinations for the new BMW Z4
Type IV Wheels, BiColor

Wheel Size

Tyre Size

front

8,5J x 18"

225/40 R 18

rear

8,5J x 18"

225/40 R 18

front

8,5J x 19"

225/35 R 19

rear

8,5J x 19"

225/35 R 19

front

8,5J x 19"

225/35 R 19

rear

9,5J x 19"

255/30 R 19

front

8,5J x 19"

235/35 R 19

rear

8,5J x 19"

235/35 R 19

front

9,0J x 20"

235/30 R 20

rear

9,0J x 20"

235/30 R 20

front

9,0J x 20"

235/30 R 20

rear

10,0J x 20"

285/25 R 20

front

9,0J x 20"

235/30 R 20

rear

10,0J x 20"

295/25 R 20
Type IV Wheels, silver

Wheel Size

Tyre Size

front

8,5J x 18"

225/40 R 18

rear

8,5J x 18"

225/40 R 18

front

8,5J x 19"

225/35 R 19

rear

8,5J x 19"

225/35 R 19

front

8,5J x 19"

225/35 R 19

rear

9,5J x 19"

255/30 R 19

front

8,5J x 19"

235/35 R 19

rear

8,5J x 19"

235/35 R 19
Type IV Wheels multipiece, silver

Wheel Size

Tyre Size

front

8,5J x 19"

225/35 R 19

rear

8,5J x 19"

225/35 R 19

front

9,0J x 20"

235/30 R 20

rear

9,0J x 20"

235/30 R 20
Type VI Wheels, BiColor

Wheel Size

Tyre Size

front

8,5J x 18"

225/40 R 18

rear

8,5J x 18"

225/40 R 18