Adaptive KW Coilover Kit With iPhone Control For Porsche 911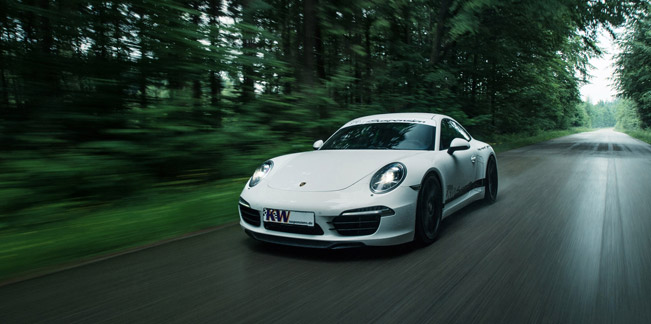 KW Automotive is known primarily with numerous racing and coilover kits for Porsche models. Now for the new generation of the 911 the company has released KW iSuspension and offers for the first time adaptive coilovers for the Porsche 911.
The KW DDC ECU coilover kit offers to the driver's three driving modes: "Comfort", "Sport" and "Sport+". In addition, it also stores five personal damper setups per KW DDC App. For the App control via iPhone, iPod touch and iPad, only an optional WLAN module is required.
The adjustment of the Porsche via iPhone for the use of different wheel / tire combinations is done directly from the App.For the wireless connection between KW DDC ECU suspension control unit and iPhone, iPad or iPod touch, an optional W-LAN module is required.
Furthermore, the adaptive KW DDC ECU coilover kit with electronic damper adjustment also allows lowering with 20 up to 40 millimetres. As a matter of fact, the afore mentioned kit is an alternative to the Porsche Active Suspension Management (PASM) with optional Porsche Dynamic Chassis Control (PDCC).
To go further into details, the balanced "Comfort" mode adjusts the damping characteristics automatically to the driving speed. On the other hand the driver will experience his Porsche in "Sport" and "Sport+" mode directly and pure. At last, in the next months, KW automotive will develop further suspension solutions with smartphone compatibility of the product family KW iSuspension.
Source: KW Automotive