Anderson Casino Royale Aston Martin DBS
Here's a treat from Anderson (Düsseldorf, Germany). It's called the Aston Martin Casino Royale DBS – an evident reference to the James Bond franchise. And it certainly looks exclusive enough to bare that image – shady, sleek and, inside, a bit over the top but don't worry. That's why the windows are tinted – it will be your dork secret.
Anderson are quick to announce that because of the ECU tweak, the new manifolds and exhaust system with sports catalysts, the power of the Casino DBS is up by 55 ps. So that's 572 ps and 569 Nm of torque coming from the Aston's epic sounding V12. However, for the guys at Düsseldorf, epic is not enough. That's why there's a remote controlled valve somewhere down the line so that there are three sound levels. Also, the complete mass of the exhaust system is around 21 kg less than the standard one. Has it been made with tinfoil?
As for the body, we can clearly see that predominant matte gray color. Anderson claim however, that there are two shades of it – various components such as the window borders, tailgates block and radiator case are more "shiny gray". Right.... As additional components there's a front lip spoiler and a rear diffuser. All the while, 21-inch Anderson wheels complement the whole look while 255 tires at the front and 295 at the back give the necessary grip.
The brake calipers and some external logos bare a bronze motive which continues inside. Bronze stitching on the Alacantra upholstery and bronze embossing. Otherwise, almost everything else is carbon fiber – black, gray, you name it. If you stare at its patterns long enough your eyes will start to bleed. That being said, we will most definitely not decline an overnight stay inside because at the end of the day – it's an Aston Martin... with a James Bond feel on it. What more does one need?!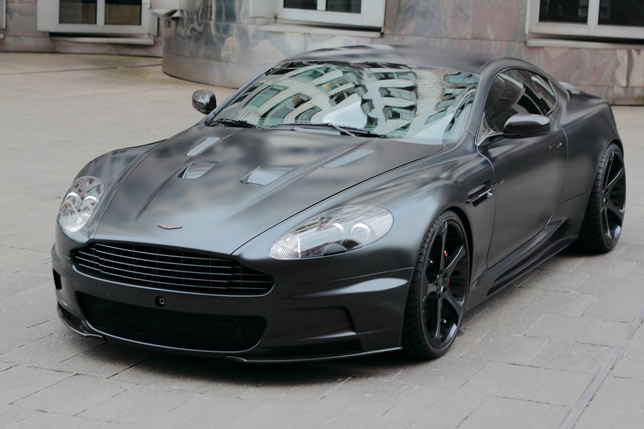 Source: Anderson