A.R.T. Mercedes-Benz CL
ART's Program 216 is aimed at the new Mercedes-Benz CL in the exclusivity of the Mercedes Benz luxury class with an abundance of top-quality tuning components. The ART aerodynamics set for the front and rear optimizes the contours of the vehicle with an individual touch. In perfect harmony with the series design of the front spoiler, fine parallel grooved lines enhance the vehicle's front silhouette. The eye-catching elegant lines of the ART rear skirt give the series rear an entirely new appearance. A rear spoiler shaped like a separation edge on the rear hood is the third element in the ART design system for the exterior of this beautiful coupé.
The ART interior upgrades the vehicle with an alcantara roof liner and upholstery. Elegant combinations of alcantara and leather, in one or several colours, leather with contrasting seams, quilting and perforations, provide marked elegance. In conjunction with fine wood paneling in a variety of different woods and nuances, carbonized surfaces in magical colours, sports steering wheels with paddle shifter, steering wheels in alcantara/leather, leather/wood, and leather/carbon offer an extensive range to choose from for the design of the CL interior. Every custom feature is the owner's choice. There are no limits to the individualization.
And under the hood: engine performance from ART includes a Vmax delimiter for the CL and electronic performance optimization of the motor control. They give the powerful series V8 and V12 power units that final performance kick.
The four highly polished chrome-plated 80mm tailpipes of the ART sports exhaust system with the ART logo draw the gaze to this successful rear skirt solution. One right and one left rear muffler ensure the sound is right.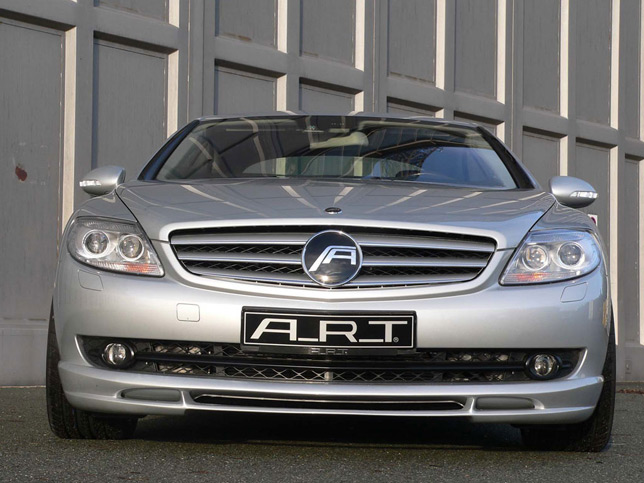 The electronic suspension system from ART for the series ABC suspension system lowers the ride height by 25mm. All other built-in chassis control functions remain unchanged. Only the speed-dependent ride-height control is suppressed.
For the wheel concept, ART proposes the monoART1 light-weight metal rims in dimensions 18, 19 or 20 inches for the CL class. This individual choice of rims is multiplied by the range of three different surfaces:
The stylish three-part ARTstar2 light-weight metal rims are an equally good choice. With a 6-spoke design, with 36 titanium screw joints, inside valve, shiny-silver rim star and mirror-finished rim base it is offered in sizes 19 and 20 inches. To customize a car still further, it is possible to have the rim star and wheel-base painted in a special color. Of course, with a protective nano technology coating.