Aston Martin CC100 Speedster Concept Unveiled [VIDEO]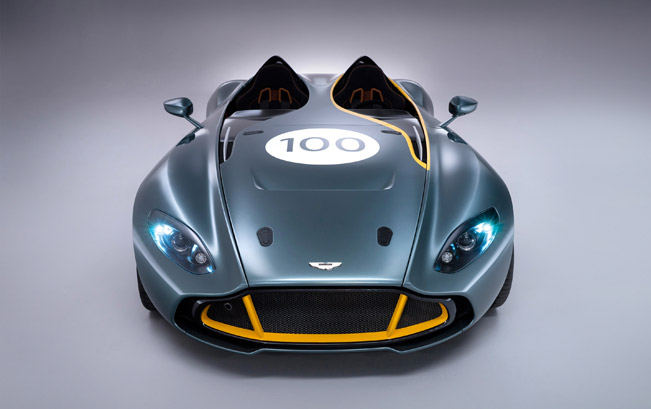 In order to celebrate its centenary Aston Martin is unveiling the exceptional Aston Martin CC100 Speedster Concept. The model looks both to the past and the future. Back in the days the DBR1 was brand's greatest sporting triumph on the track. Of course, the future is "teased" by the glimpses of potential future design direction.
The concept is powered by a 6.0-litre V12 engine. It competed yesterday at the famous Zurich 24 Hours of Nürburgring race, driven by Aston Martin CEO Dr Ulrich Bez. In fact the speedster represents company's fantastic sporting heritage, exceptional design capability, superb engineering know-how and adventurous spirit.
But this car is even more - it shows that the soul of Aston Martin, ad this is what differentiates Aston Martin from all the other car makers in the world. CC100 Speedster Concept was designed and constructed in fewer than six months. The aim was to create something that reflects the 100 years of brand's heritage and to signal the future of the British company.
To be more precise, the car measures almost four and a half metres nose to tail, and more than two metres wide. This makes the Speedster Concept body a classic example of the almost infinitely flexible nature of Aston Martin's trademark Vertical Horizontal engineering philosophy.
Of course, new materials were utilized throughout the construction of the body and the interior - carbon fibre can be seen prominently. In addition, the CC100 uses the latest generation AM11 naturally aspirated V12 gasoline engine that is matched with a six-speed hydraulically actuated automated sequential manual transmission.
It is controlled via steering column-mounted paddle shifts thus delivering the needed sporting changes. This makes it possible for the concept to accelerate from 0 to 100 km/h in little more than four seconds on its way to a top speed of 180 mph.
Video Source: YouTube
Source: Aston Martin