Audi A3 e-Tron at the Auto Shanghai 2011
Audi is currently exhibiting A3 e-Tron Concept at the Auto Shanghai 2011. It is a four-seat sedan, which is not full electric, but features a plug-in hybrid system. A3 e-Tron Concept is based on the A3 sedan Concept, which was recently introduced at the Geneva Auto Show.
The plug-in hybrid drivetrain includes a highly-efficient 1.4 liter TFSI four-cylinder petrol engine delivering 211PS (155 kW) coupled to an electric motor with 27PS (20 kW). The total maximum power is 238PS (175 kW). All power is put on the road through 7-speed S-tronic transmission, wihch grants smooth gear-changing and perfect response.
The performance is grat – 0 to 100 km/h in 6.8 seconds and top speed of 231 km/h (144 mph). Furthermore, the A3 e-Tron features the intelligent Audi thermal management system, a start-stop system and an energy recovery system.
Audi A3 e-Tron plug-in hybrid can go only on electricity with the help of the 12 kWh lithium-ion batteries located behind the rear seats. The range is perfect for everyday driving – up to 54 km (34 miles).
The chassis is derived from the current RS3 Sportback, so it is capable of handling the power from the drive system at all times. The front suspension has a MacPherson construction with a separate axle support. The four-link rear suspension is likewise fixed to a subframe. The shock absorbers and coil springs are mounted separately from each other. The ESP stabilization system has a Sport mode and can be completely deactivated, if desired.
A3 e-Tron stands on enormous 20" light alloy wheels fitted with 245/30 ZR20 tires at the front and rear.
Audi A3 e-Tron Concept is amazing on paper, but whether it will go in production?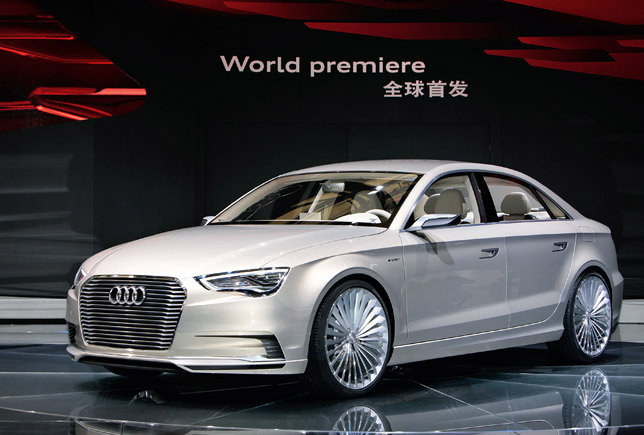 Source: Audi