Audi is About to Show Its Latest Concept Sports Vehicle

With incredible additions, 2015 Audi TT Clubsport Turbo heads to the Austrian town of Reifnitz to demonstrate incredible power and design. With all its additions, incredible rear wing and power output of 600 hp (441 kW) the 2015 Audi concept vehicle truly deserves our attention.  In fact, the concept idea was born from the inspiration from the well-known Audi 90 IMSA GTO of the 1980s. But let us see what the latest Audi concept has to offer.
Drivetrain system
The Audi TT Clubsport comes with five-cylinder 2.5 TFSI engine, that produces the incredible 600 hp (441 kW) and 650 Nm of torque.  This crushing force is precisely controlled with a manual six-speed transmission.
SEE ALSO: Audi Announces Details for 2016 Audi TT and TTS Models
The TT design is especially built with lightweight materials, which means, that the overall weight is just 1.396 kg (3.077 lb). It helps the vehicle to complete the 0 to 100 km/h (62mph) sprint in just 3.6 seconds and from that impressive start it can chase the top speed of 310 km/h (192 mph). But this is not all. When we talk about acceleration and top speed, Audi TT has a little secret for you. Audi TT Clubsport Turbo is especially crafted to take advantage on the start of the sprint. The engineer wonder of the electric compressor lets it run the first 16 meters in just 2.5 seconds. There isn't any other vehicle, that can beat that achievement.
We mentioned the electric compressor. It offers a few advantages: it revs up the maximum rpm and boosts the charge pressure, when there is too little energy left in the exhaust gas for the turbocharger.  The result is noticeable. The 2.5 TFSI engine builds up its crushing power with almost no delay.
Exterior

The sports car steps confidently on the road with its length of 4.33 meters and width of 1.97 meters. The fenders, panted in Ferro Titanium give that extra muscular vision. Other wonderful features include the Singleframe grille and the large air inlets.  And of course the beautiful and effective Matrix LED headlights - they do not just illuminate the path in front, but are especially designed to ensure maximum air throughput.
The manually adjusted wing marks the advanced development plans of Audi team. It redesigned to demonstrate a different geometry. It is built with carbon-fiber material, that brings not only functionality, but also comes with style.
Interior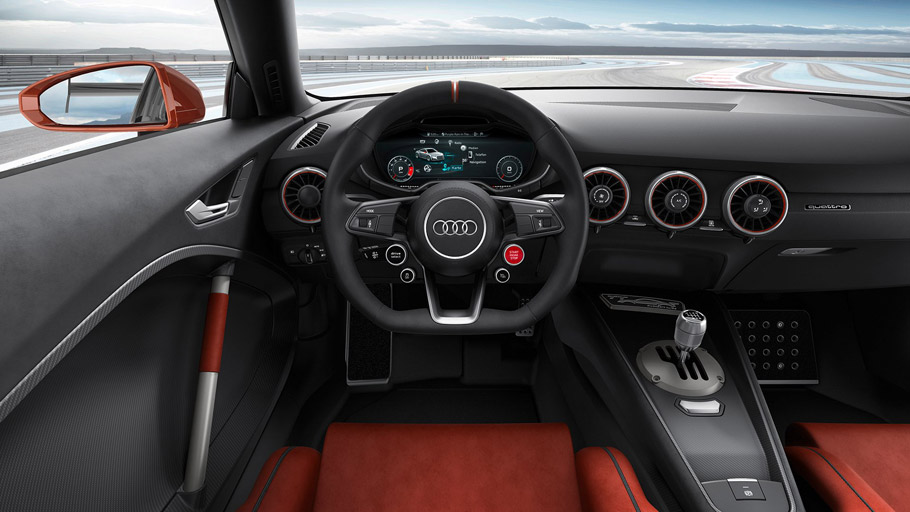 The cabin is reinforced with high-strength titanium tubes, that definitely ensure rigid and safe drive. In front, there are special lightweight race seats with four-point harnesses. The board comes with a display and operating system, that are especially built to ensure focused and safe drive.
Fresh, beautiful and innovative. This is the 2015 Audi TT Clubsport Turbo. Tell me what you think in the comment section below.
Source: Audi