B&B Automobiltechnik Shows How to Boost Performance of BMW M4/M3

B&B Automobiltechnik has created a special comprehensive performance package not for one but two models of the BMW M family. We are talking about the M3 (F80) and M4 (F82), and the particular illustrated example is BMW M4 Convertible. The pack is broad and features a lot of tweaks for the engine and the handing. The main goal is to boost as much as possible the performance and driving capabilities of the car.
How to Boost Performance?
If you have ever wondered about the ways to boost the performance of your car, here are some ideas that might be useful to you. In terms of software, B&B is offering a three-staged program, which uplifst dramatically the power and torque of the BMW TwinPower Turbo straight-six engine. As a standard the unit produces 431 hp (317 kW) and 550 Nm (406 lb-ft) of torque.
SEE ALSO: Power Boosts Define B&B Jeep Grand Cherokee
The intermediate Stages 1 and 2 uprate these numbers to 490 hp (360 kW) and 540 hp (397 kW), respectively, while the highest one uplifts the horses to 580 hp (426 kW) and the torque to 750 Nm (555 lb-ft). All three stages feature software adaptation for the seven-speed dual-clutch transmission and removal of the top speed limiter.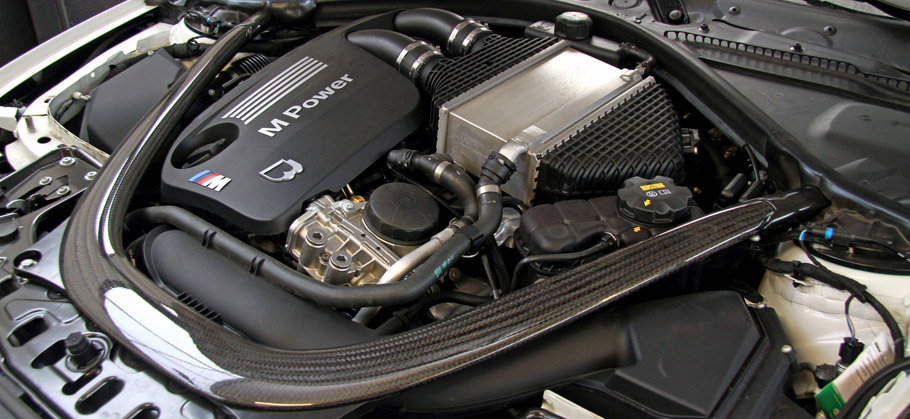 Next, additional performance boosts were achieved with modified turbochargers, higher-flow intake tract, larger exhaust downpipes, more efficient charge air cooler, and an ECU remap with revised fuel, spark and boost parameters.
But let me impress you with more details. In Stage 3, the M3 and M4 can go from 0 to 100 km/h in 3.5 seconds, in comparison to the standard 4.6 seconds. The 0-200-km/h time is reduced from 13.4 to 11.2 seconds, while the Vmax goes over 330 km/h.
Something you need if you add all of this inside your M4 is B&B's thermostatically-controlled supplementary oil cooler system. It is recommended for all three engine upgrade stages, because it lowers thermal stress on the motor by reducing oil temperatures by up to 25°C.
Handling And More…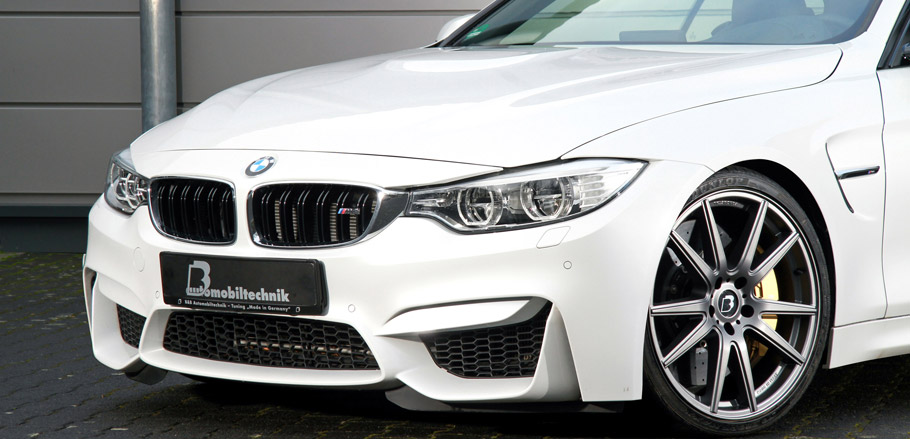 Boosts in performance require optimized handling. B&B offers various ways of doing it: a threaded height adjustable sport suspension kit (lowering up to 25 mm), set of sport springs (lowering up to 30 mm) and the super cool KW coil-over suspension. The latter offers ride height and damper bounce, thus substantially enhances chassis performance.
High performance brake system was added and it comprises of 396 mm and 380 mm vented discs. At last, rounding out this tuning are the B&B 9.0 and 11.0x20-inch alloy wheels shod with 255/30R20 and 305/25R20 tires.
Source: B&B Automobiltechnik