Power Boosts Define B&B Jeep Grand Cherokee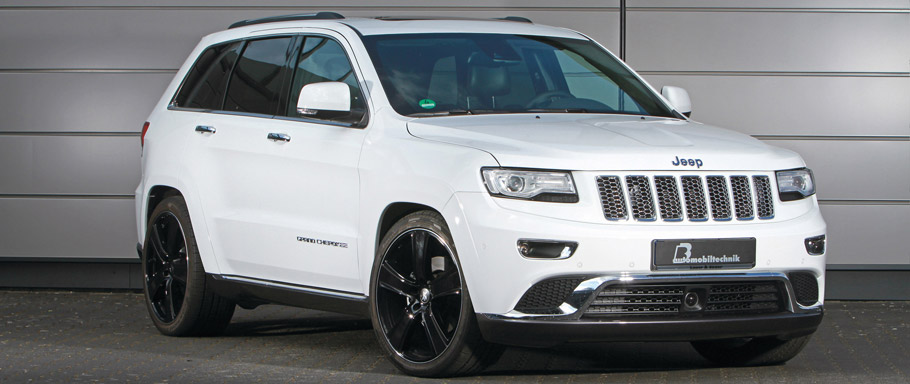 B&B Jeep Grand Cherokee 3.0 CRD 4x4 is originally powered by a 3.0-liter V6 turbo-diesel engine. The production variant of the unit produces 250 hp (183 kW) and 570 Nm (421 lb-ft) of torque. B&B tuning company did not see satisfaction in these numbers so it created a two stage program, offering a power boost for the car. There are also some styling updates included.
Two Stages for the Engine
Both power upgrades feature air intake optimisation. In addition, the ECU remaps improve further the fuel flow to the injectors. There is also an increase of the turbo boost pressure by 0.2 and 0.25 bar for the Stage 1 and Stage 2 upgrade, respectively.
SEE ALSO: B&B Mercedes-Benz CLA 45 AMG is Capable of up to 450 HP/580 Nm
Stage 1 offers an additional 45 horses. This means that the total output of the car is now rated at 295 hp (217 kW) and 640 Nm (472 lb-ft) of torque. Luckily, the top speed was also increased from 203 to 212 km/h.

The second power boost, Stage 2, breaks the 300 hp barrier, and delivers 310 hp (228 lb-ft) and 670 Nm (495 lb-ft) of torque. The improvement in top speed is little over Stage 1, but important, because it takes the B&B Jeep Grand Cherokee to 215 km/h.
Furthermore, the tuners also remapped the electronic torque limiting system for the eight-speed automatic transmission and this has been also done for the engine ECU.
Other Goodies
The performance upgrades found in the B&B Jeep Grand Cherokee continue with the addition of twin-outlet stainless-steel sports exhaust with 140x90 mm tailpipes. It not only looks good but also enhances the exhaust note.
In order to make the new power capabilities of the Jeep even more attractive, B&B improved the engine acoustics via sound generator. And this is how the experts achieved a baritone growl of a V8 for a V6. The acoustic system includes a test module on the control unit, which includes six sound profiles that the driver can choose from.
Furthermore, the driving dynamics were improved with 40mm reduction in ride height via lowering springs. At last, everything was rounded out by 10x22-inch alloys coupled with 285/35R22 tyres at all four corners.
Source: B&B Automobiltechnik