Best-Tuning BMW 4-Series 435i xDrive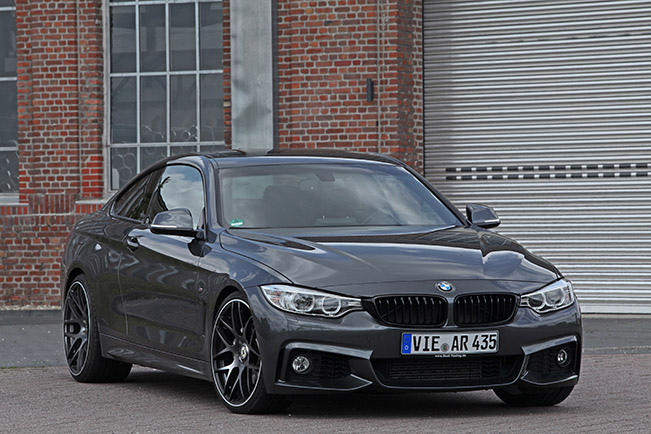 Best-Tuning has announced their latest project based on BMW 4-Series 435i xDrive. The sports coupe comes with styling and performance upgrades as well. The ride height is lowered and the Beamer has received new set of enormous wheels.
The new wheels are provided by Schmidt Revolution – 8.5J x 20" at the front fitted with 235/30 R20 and 10J x 20" with 275/25 R20 tires on the rear axle. The complete set starts from €2,600 as the price varies depending on tire choice.
The stance is further improved by KW coilovers with pricing starting from €1,100 depending on the variant from 1 to 3. The new suspension improves not only the handling, but the comfort as well, because it offers a number of settings.
The performance package boosts the 3.0 liter Twinpower-turbocharged petrol engine to 365HP (268 kW) – an increase of 57HP thanks to an ECU re-map (nothing is mentioned about torque increase, but it will be around 100Nm). The price is just €1,299 - definitely a good value for money. Last, but not least Best-Tuning offers a complete sports exhaust system delivering epic soundtrack and of course slight power increase. No words about its price.
Source: Best-Tuning