BMW 2002 Hommage Concept with cute new livery and dedication

Pays tribute to the glorious motor racing past of the turbocharged car
The next design study for today Mercedes steady rival, BMW. It has just revealed the 2002 Hommage concept with a new livery and dedicated to paying a tribute to the iconic turbocharged cars and motor racing victories. The design study is currently on display at the Concours d'Elegance in Pebble Beach.
To get into the details, in 1973 was born a legend: the BMW 2002 turbo. It was the first series-produced vehicle in Europe, which featured turbo technology. In other words, this it was a "full-blooded sports car". A lot of victories then followed such as the milestone achieved at the 1983 Formula One World Championship, where the car won for the first time the title for a turbocharged car. The driver was Nelson Piquet.
SEE ALSO: BMW Unveils the Stunning 3.0 CSL Hommage Concept [VIDEO]
What can we say about the exterior BMW 2002 Hommage? It features sports styling, standing low to the ground and sporting compact proportions. It promotes irresistible dynamics and agility, due to its large spoilers at the front and rear, large air intakes and pronounced wheel arches.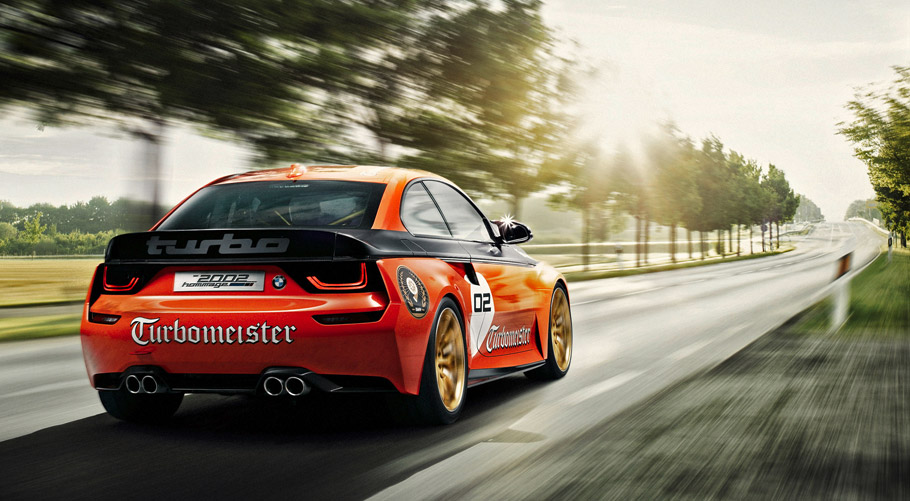 Obviously, BMW has kept the design of the car very close to the original 2002 turbo car. However, there are a lot of new materials used like the carbon fiber line that physically wraps around the car from front to rear and the 20-inch alloys in bi-colour design as well as the gold-colored brake callipers bearing the M logo.
But probably the most striking feature of the exterior design is the front end: it has a styling that makes a bridge over a gap of 50 years. In other words, it combines the qualities of the horizontal grill graphic of the 02 series with modern elements of BMW design. Just like the 1973 car, the BMW 2002 Hommage also has two single round headlights. There are a lot of other details to talk about, like the gold-elements, large front apron that mimics those of the 70s and the "turbo" lettering. And not forgetting the cool surfaces in exposed carbon.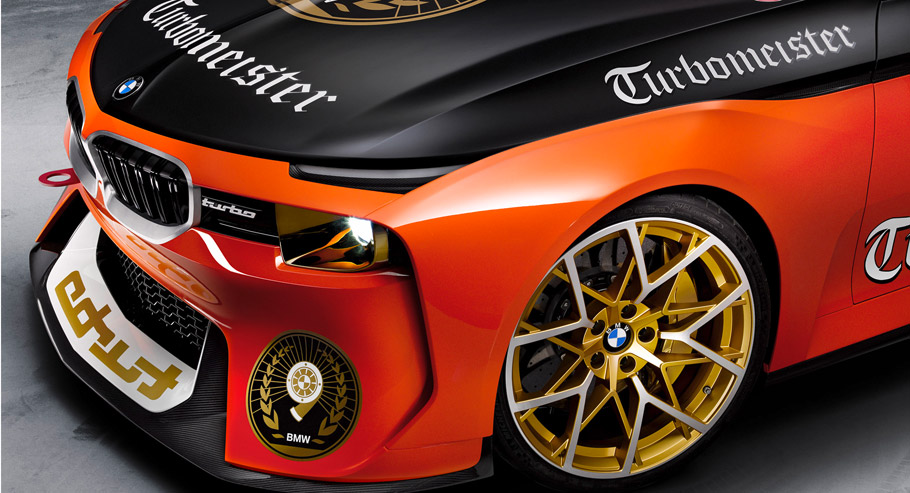 Bringing matters to a conclusion, there is no surprise that the rear of the BMW 2002 Hommage also calls on elements of the 2002 turbo like the horizontal sub-division of car's surfaces or the rectangular lights. Here, the muscular wheel arches accentuate the wide track, while the carbon diffuser integrates two sets of twin exhaust tailpipes and rounds out the rear styling.
BMW 2002 Hommage will be on display at the Pebble Beach Conccours d'Elegance on August 21st.
Source: BMW