BMW i8 Transformed by AC Schnitzer [VIDEO]

What happens when you combine hybrid power wit hybrid thinking? The result is simple and can be expressed via this amazing project by AC Schnitzer. This time the tuner has modified BMW's i8 plug-in hybrid giving it special equipment that further emphasizes the unique qualities of the model.
Exterior
First to be mentioned is the lowering. This BMW sits very close to the ground in a standard form, but now it is even closer. Precisely, the tuners have lowered it by 25 mm at the front and 20 mm at the rear. This helps is also to develop optimum efficiency and better dynamics.
SEE ALSO: Meet the Fastest Diesel on the Sachsenring!
The in-house made carbon fiber front spoiler elements, side skirts and rear wing also contribute for the unforgettable performance. In addition, AC Schnitzer logos can be seen on both sides of the vehicle as well as on the center caps of the wheels. Speaking of which, they are the so called AC1 forged alloys in bicolor double-spoke design which have been fitted with low profile tires.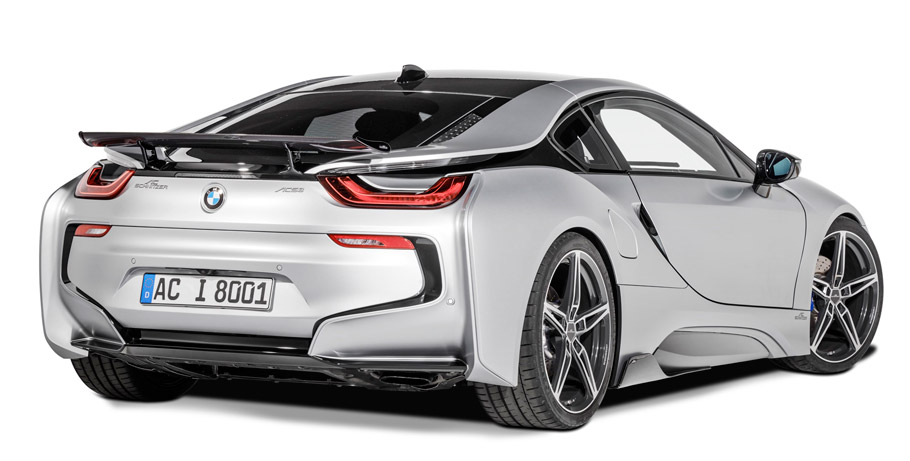 Another benefit from these wheels is the weight saving. Compared with the standard alloys on which the i8 runs, these save up to 30 percent weight, thus improving the driving dynamics. The AC1 are 21 inch of size and matched with 245/35 R 21 tires at the front 285/30 R 21 tires at the rear.
Interior
Unlike many tuners, AC Schnitzer specialists find the interior as important as the exterior. However, this time they haven't given it a thorough make-over, but some small changes. Inside one will enjoy aluminium pedal set and root rest from the same material as well as velours floor mats.
There is also a video promoting this car, so don't forget to check it out:
Video Source: YouTube
Source: AC Schnitzer