BMW ///M6 Gran Coupe MotoGP Safety Car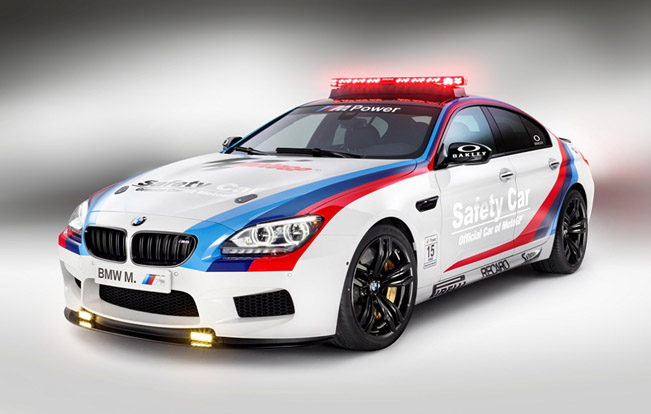 BMW has revealed the the M6 Gran Coupe MotoGP Safety Car. The manufacturer has been involved in MotoGP since 1999 and provides the official Safety Cars. The vehicle will make its official appearance this weekend during the Grand Prix of Qatar.
The high-performance BMW M6 Gran Coupe is a premium product, which combines outstanding performance with captivating aesthetics and luxurious elegance. The latest top model to emerge from BMW M GmbH is powered by a high-rev V8 engine with M TwinPower Turbo technology. The maximum output is 560HP (412 kW) and 680Nm (502 lb-ft) of torque. 0-100 km/h in 4.2 seconds and a top speed of 250 km/h (155 mph) or 305 km/h (189 mph), when fitted with the optional M Driver's Package. The engine is coupled with a 7-speed M double-clutch gearbox.
In total, the fleet of official MotoGP cars for the 2013 season comprises five BMW M and M Performance models. As well as the BMW M6 Gran Coupe, the BMW M6 Coupe and the BMW M5 will also be in action as Safety Cars. The Safety Officer will take to the track in a BMW M3 Coupe, while two BMW M550d xDrive Tourings will be used as medical cars. BMW Motorrad will also provide two new BMW HP4s as Safety Bikes.
Source: BMW