Brabus Mercedes-Benz AMG G63 Gets Military Green Exterior And ADV1s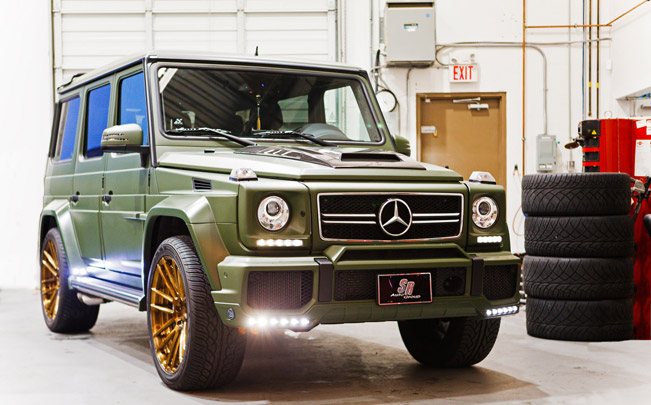 One of the most emblematic vehicles in Mercedes-Benz range is undoubtedly the G-Wagon. The model was introduced back in 1979 and since than it made an uncompromised mark in the automotive industry.
Many tuners have taken the challenge to make this machine even more stunning. The tuners at SR Auto Group have also made a contribution to the world of modified G-Wagons with their take on the AMG G63.
At first, they have equipped it with a complete Brabus Widestar Kit, which includes Fender Flares and Door Add-Ons. Brabus Front Lip with Integrated DRL LED System was later added, as well as Brabus Side Skirts, Rear Bumper, Roof Spoiler, and Carbon Fiber Hood Vent.
The specialists have then proceeded to treat the exterior with a matte military green vinyl wrap. As a result the exterior of this G63 is now more rugged and aggressive. The final touch in the tuning is the addition of new wheels. Precisely, SR Auto installed a set of 22″ ADV1 7.0 MV2 Wheels in Man Bronze finish, giving this truck an entire transformation from top to bottom.
Source: SR Auto Group