Chrysler PT Cruiser Gets One-Off Appeal by Carbon Motors 

This is a Chrysler PT Cruiser but not a regular one. Introduced in 2001 the model was one of those rare cases when an automaker tries to mimic an old-school car. Successful or not, this particular car was a subject of a total transformation, received two instead of four doors, and one of the most luxurious cabins you might find in a the retro-styled compact cars PT Cruiser. Speaking of the interior, it was entirely modified by the experts of the Bulgarian tuning company Carbon Motors. As usual, their work surprises us with its craftsmanship and precision.
PT Cruiser Widebody?
What does the 'widebody' word actually mean here? In the case of this PT Cruiser, it means that it has become more compact by halving the body and leaving it with two seats and doors. The space at the rear was utilized for the making of a trunk in a pick-up style. This of course has happened with the significant change of adding to the width 2 meters.
SEE ALSO: See the Ecstatic Restoration Process of 1968 Jaguar 420 by Carbon Motors [VIDEO]
Carbon Motors & The Cabin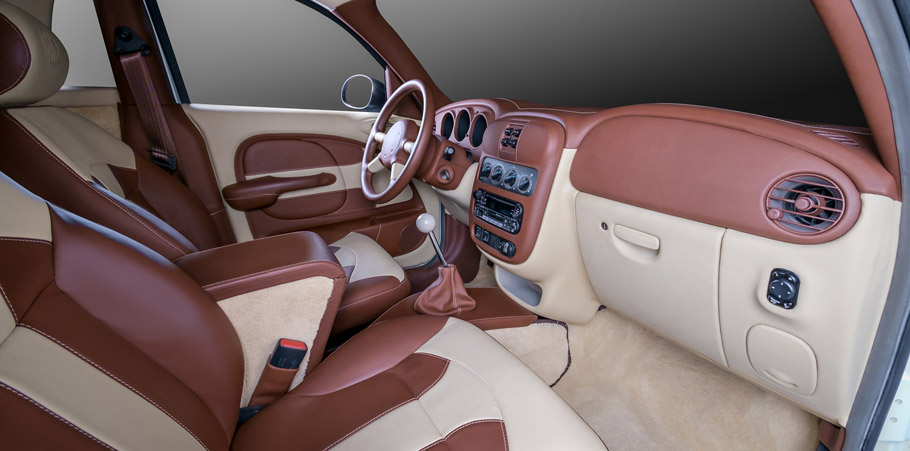 Making the car look really unique from the outside demanded a really cool and special interior that just tuning specialists like Carbon Motors could give it. Hence, they designed the cabin in such way that it perfectly matches the pick-up military style of the PT Cruiser.
In details. Literally all elements were changed, leaving no trace of the previous serial equipment. Precisely, the plastic elements were covered in leather, including the seats, dashboard, pillars and door trims. What is more, a new central console was created specifically for this project and styled in the vehicle's bespoke design features.
Ironically, despite the camouflage foil used for the exterior, this widebody pick-up truck is hardly an undercover vehicle…
Tell us what you think!
Source: Carbon Motors