Jeep BOSE by Carbon Motors Features Home Audio System [VIDEO UPDATE]

Carbon Motors Jeep Grand Cherokee BOSE is simply marvelous! The vehicle received truly unique equipment commissioned by BOSE Sound Systems. The result is very interesting and this is why it deserves our attention. What is even better, there are plenty of pictures that you can enjoy in our gallery. The famous client of Carbon Motors decided that there is a need of a customized car for special client deliveries. As a result this Jeep BOSE was born.
The major changes in this tuning are to be found inside of the Jeep Grand Cherokee. Carbon Motors literally redesigned the whole interior and even more, they installed a BOSE hi-fi HOME audio system.
SEE ALSO: Carbon Motors Present Carbon Infused Jeep Grand Cherokee SRT8
Yes, you have read it correctly - a home system! The reasons for this important decision are two. First, it is much easier to mount a car system, and secondly – the audio system itself produces a very good sound in smaller compartments. Therefore, it seemed as the best choice to make.
Inside Jeep BOSE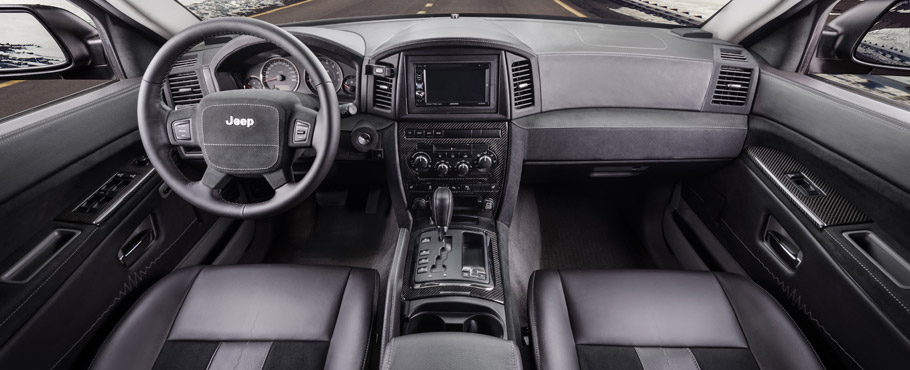 As you can also see, the cabin of this Jeep BOSE received new leather and Alcantara upholstery. Precisely, the seats at the front and rear, the door panels and dashboard have been all wrapped in these materials of high quality. Throughout the interior, there are also stylishly embroidered BOSE logos. Furthermore, there is a second material used inside and it is carbon fiber. In the form of coating it was abundantly placed on the door panels.
Home Audio System in Jeep BOSE

At last, at the rear is where the magic happens. The trunk is actually a form of a BOSE showroom. It includes large LED-lit BOSE logo right in the middle of the carbon fiber panel. There is also a subwoofer in the back.
No changes have been made to the exterior or the engine. After all, the highlight of this tuning is sound experience. Well, Carbon Motors obviously make things happen.
Source: Carbon Motors