Carlsson Personalises Mercedes-Benz B-Class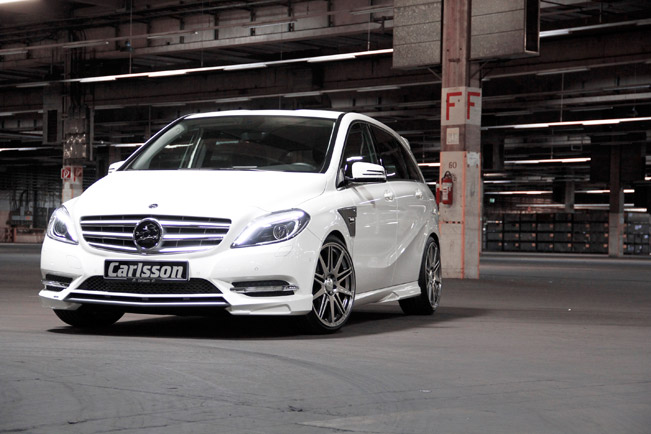 Carlsson Mercedes-Benz B-Class is not an ordinary vehicle. In fact, it is a true masterpiece due to the work of the tuning specialists at Carlsson. In this project were used head turning aerodynamic styling additions and alloy wheels, which were supported by upgraded suspension and performance kits. The result is 42 horsepower (31 kW) more.
To go further into details, the kit for this Mercedes-Benz model includes a front spoiler which contributes to car's more dynamic face. At the same time this kit improves the high-speed stability.
In addition, there are more sculpted side sills which make easy the airflow along the cars flanks and then lead to the new rear apron. The latter now has an integrated diffuser flanked by cut-outs for two pairs of rear exhaust outlets. There is also added a new and larger roof spoiler which helps reduce the drag and lift at speed.
Furthermore, the professionals at Carlsson have also added lowering springs. They drop the ride height by 35 mm. This means that now the handling and grip are enhanced as well as the car exudes more purposeful stance.
And in order to complete the masterful visual appearance of the car, Carlsson's 1/10 design alloy wheels were used. They are available in Titanium, Diamond and Graphite Editions in 18, 19 or 20-inch sizes, properly matched with 225/40 R18, 225/35 R19 and 235/30 R20 tyres from Dunlop or Vredestein.
What is more, a racier exterior can be achieved via Carlsson's C-tronic CB kits, designed to increase output of the B-Class four-cylinder petrol engines. The effect is increase of B-Class' output. The B250 horsepower rise from 211 hp (155 kW) to 253 hp (186 kW), while those of B200 go from 156 hp (115 kW) to 187 hp (138 kW), B180 achieves 146 hp (107 kW) from 122 hp (90 kW).
The interior of the vehicle has been also upgraded thanks to the new carpet mats, alloy pedal set and door pins, bespoke leather upholstery and wood or carbon-fibre trim.
Carlsson Mercedes-Benz B-Class as well as other vehicle tuned by the company can be seen at this year's 2013 Frankfurt Motor Show in September.
Source: Carlsson