Cars Complete U.S. Cross-Country Trip Using No Gas
Hyundai celebrated the successful completion of a 13-day, cross-country road trip which served as the first significant U.S. test for the company's proprietary fuel cell technology.  Two Tucson Fuel Cell Elective Vehicles (FCEVs) powered by Hyundai-developed fuel cell stacks completed the nearly 7,000 km (4,300 mile) event today in Los Angeles as part of the Hydrogen Road Tour 2008. Nine auto manufacturers, the U.S.
Department of Energy, the California Fuel Cell Partnership, National Hydrogen Association and U.S.
Department of Transportation sponsored and participated in the event which started August 11 in Portland, Maine. The road trip consisted of 34 tour stops in 31 different cities across the country reaching communities such as New York City, Atlanta, Ga., Las Vegas, Nev., and Phoenix, Ariz., before rolling to the finish-line event in Exposition Park.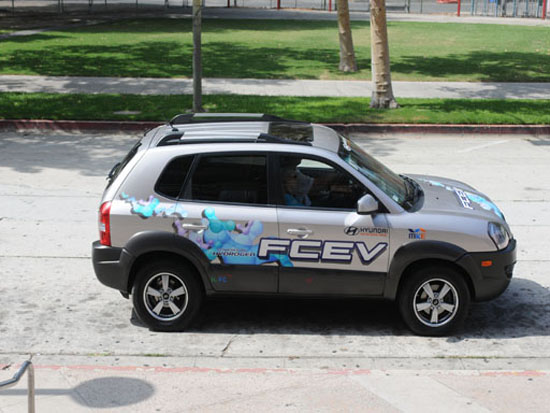 The two Tucson FCEVs exceeded expectations throughout the event, demonstrating again that zero-emission vehicles can operate in real-world driving conditions. The vehicles recorded exceptional range of 300 km (185 miles) per refueling, and achieved top speeds of 150 kph (95 mph). At the conclusion of the tour, the Tucson FCEVs with Hyundai fuel cell technology will be added to a fleet of more than 30 Hyundai and Kia FCEVs taking part in testing programs throughout the country.
Participants successfully completing the tour included vehicles from BMW, Daimler, General Motors, Honda, Nissan, Toyota and Volkswagen.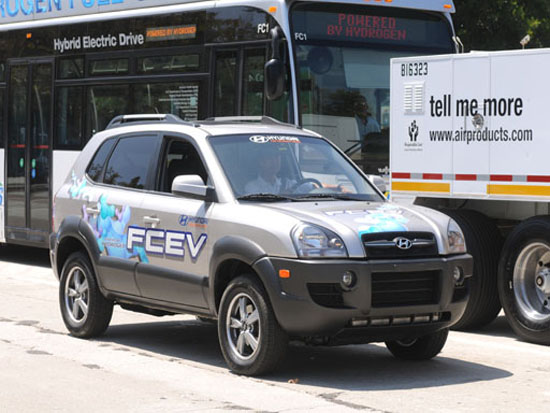 Hyundai is a member of the California Fuel Cell Partnership, a collaboration of organizations including auto manufacturers, energy providers, fuel cell technology companies and government agencies working together to promote the commercialization of fuel cell vehicles. Hyundai has been a member of the Partnership since 2000, and began testing its first-ever U.S. fuel cell vehicle at Partnership headquarters in Sacramento, Calif. in 2001.