Citroen Cruise Crosser
Andre Citroen organised the first motor crossing of the Sahara in 1922. Five half -track vehicles, tough enough to cross rocky and inhospitable terrain, were the first to journey from Algeria to French West Africa. Galvanised by this exploit, André Citroën followed it up with the Croisière Noire in 1924 and the Croisière Jaune in 1931. The public was thoroughly captivated by these truly adventurous Asian and African expeditions, which were recognised at the time as important economic, humanitarian, scientific and cultural missions.
Citroen is alluding to this past with Cruise Crosser, a rough and ready all-terrain concept car produced by the Espera Sbarro School in partnership with Citroen Styling. This off-road concept, based on Citroen's first luxury SUV, the C-Crosser, is fitted with three axles and six wheels that, just like those first half -track vehicles, give it traction in the harshest possible conditions, come snow, sand or mud.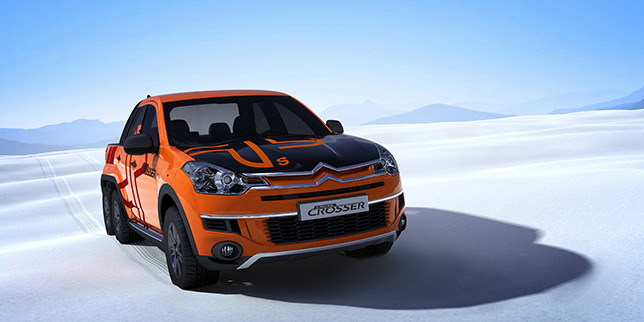 Off-road adventure and recreation
The orange-coloured Citroen Cruise Crosser is easily spotted wherever it roams. The large red compasses on each side of the vehicle underline its mission to travel everywhere and anywhere, north, south, east or west.
2007 Citroen Cruise Crosser has a big open space at the back to provide seating for extra passengers (removable row 3) or a vast loading area for trouble -free transport of luggage, shovels, tents and other accessories. The opening mechanism of the tailgate makes loading easier, while step plates on both sides of the vehicle facilitate access to the rear compartment.
The Cruise Crosser is equally impressive inside. The leather seats in rows 1 and 2 boast a particularly high-tech design, with mesh-style hide confirming both the vehicle's sporting vocation and the care that went into providing passengers with total travelling comfort. The orange body colour is stylishly echoed in the seat contours, on the dashboard and on the door panels. These and other details bring a generous dose of visual and tactile pleasure to Cruise Crosser's efficient and functional cabin.
Technology with minimal environmental impact Citroen Cruise Crosser is fitted with high-performance technology for serious off-road adventure.
Passengers can rest assured that Cruise Crosser will never let them down. On poorly surfaced mountain roads and other uncivilised terrains, drivers can activate the third electric axle for outstanding traction. The vehicle also has sand boards at the rear for extrication. Finding your way around is a cinch with the navigation system, and Cruise Crosser also features a DVD player that makes for more pleasurable journeys.
These escapades do not come at the expense of the environment. Faithful to its commitment to cutting fuel consumption and CO2 emissions, Cruise Crosser has a hybrid diesel drivetrain combining a combustion diesel engine with an electric motor located under the tipper bed.
Traction is boosted by the third axle, used along with the other drive wheels on harsh terrainfeaturing rocks, sand or snow. Used alone, this third axle makes it possible to drive in "Zero Emission Vehicle" mode. In this mode, the silent and non-aggressive Cruise Crosser is in perfect harmony with its environment and enables occupants to wholeheartedly enjoy the journey.
Cruise Crosser can journey in the farthest flung regions and get from A to B in the roughest possible conditions. It embodies a new kind of adventure. An adventure made possible by efficient, cutting-edge technology. An adventure that is sporting and daring, full of vitality and energy – but one that is intelligent, too, made in the greatest respect for the environment.