Citroën Revealed a New Concept Car Called DS 3 by Benefit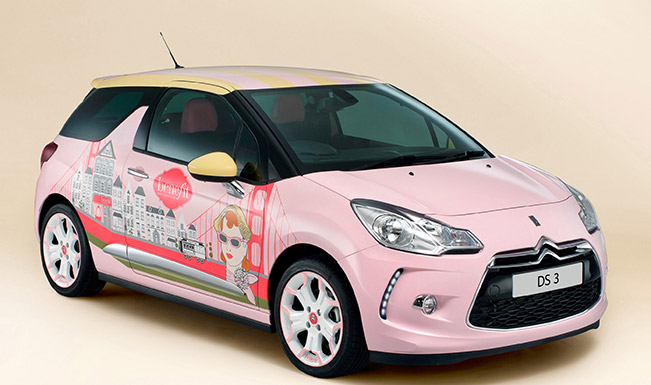 Citroën unveiled a new concept car called DS 3 by Benefit at Clothes Show Live in 2014. This is a vehicle that came to life thanks to the collaborative work by Citroen and Benefit Cosmetics. DS 3 by Benefit is a unique vehicle created to celebrate the start of the partnership between the two brands. In addition to this, Citroën is giving the chance to win the concept car at Clothes Show Live 2014.
DS 3 by Benefit is based on DSport model that is powered by a sporty THP 155 engine. It generates 115 bhp and 177 lb-ft of torque. The car is able to from 0-62 mph in 7.30 seconds, while demonstrating top speed of 133 mph.
The distinguishable design of the concept car includes Benefit's signature pink and yellow 'Candy Stripes' pattern throughout. Along the sides of the vehicle, there is a graphic of the San Francisco skyline (which is the spiritual home of Benefit Cosmetics). The mild pink used on Citroen DS 3 by Benefit concept car is selected from the Benefit range of colors. The car benefits from white alloy wheels featuring the Benefit logo on the wheel rims.
Citroën is also giving away £500 worth of ASOS vouchers at this year's Clothes Show Live. To enter, strut Citroen's stuff for their photographer on the New C1 catwalk, then follow @CitroenUK and upload the image to Instagram using #C1tyfashion.
Clothes Show Live 2014 is taking place at the NEC in Birmingham, from 5 – 9 December.
Source: Citroën