Cobra Suzuki SX4
Exclusive accessories for the Suzuki SX4 are the latest additions to the extensive product line-up from Cobra Technology & Lifestyle. To make the front of the Japanese Cross-Over from compact car and SUV even more striking Cobra Technology & Lifestyle offers a high-gloss stainless-steel front guard with a tube diameter of 60 millimeters. This accessory part successfully passed the crash test which is necessary to meet all current EG guidelines for pedestrian protection. The part, which has flexible mounts and is designed to absorb energy, comes with an EG operation certificate, eliminating the need for a technical inspection and for amending the vehicle papers.
Additionally the Suzuki can be refined with a bumper grate made from high-gloss stainless steel. The exactly fitting and easy-to-mount accessory can be alternatively mounted with or without the Cobra Technology & Lifestyle front guard.
The Cobra Technology & Lifestyle 60 millimeter stainless-steel tubular sill guards with integrated step are attractive and practical since they also facilitate entering and exiting the vehicle. They also round out the Off Road look.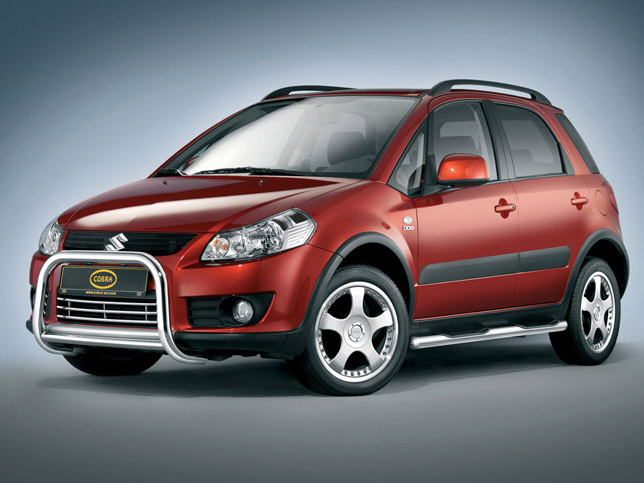 The tire/wheel combinations from Cobra Technology & Lifestyle are custom-tailored for all versions of the Suzuki SX4: Altogether there are three different wheel designs in sizes ranging from 7.5Jx16 to 8Jx17. The most exclusive wheel is the multi-piece Cobra Grenada five-spoke wheel in size 8Jx17 with 225/45 R 17 tires.