DMC Lamborghini Aventador LP900 Molto Veloce
DMC has released more details about their latest project based on the staggering Lamborghini Aventador. The name of the project is LP900 Molto Veloce and as you may suggest the number after "LP" is the amount of horsepower that the hyper car develops. On the other hand, "Molto Veloce" comes from Italian and means "very fast" and we are sure that is right!
"The Molto Veloce aims at Aventador owners that seek to add a little more exclusivity to their LP700. The LP900 engine upgrade clearly targets speed enthusiasts.", commented Thorsten Grebers, Marketing Manager at DMC Germany.
The prices are as staggering as the car itself. The complete package cost whopping €125 000, which is a lot more than a complete BMW F10 M5.  Still, if somebody doesn't want the full package, he or she can order separate components.
The body kit costs €19 500 and includes a new front spoiler, a pair of modified side skirts, a new rear diffuser and a nice wing replacing the original. The exterior also got a new stripe in the middle of the front, top and rear. All components are made from carbon fiber of course.
The wheel tire set is also very expensive - €7 800. And we get to the interior package , which is €17 700.
The performance package is the real deal – priced at €80 000, it includes a complete rebuild of the 6.5 liter V12, which gets a lot of upgrades to deliver the staggering 900HP (662 kW), instead of the factory's 700HP (515 kW).
Everything is available to order, so if you have a "slow" Aventador, you can always call DMC and spend some money on making it fast… really fast!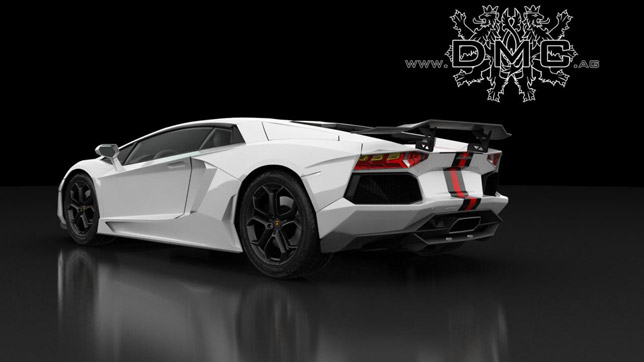 Source: DMC