Eibach competes WRC with the release of 350 HP Ford Focus RS

Eibach Ford Focus RS impresses with cool tuning pack and a lot of horsepower
Eibach has achieved something that even the WRC team hasn't. We are talking about their latest project, involving the Focus RS. Its 2.3 litre Eco-Boost four-cylinder engine is now capable of 350 HP (257 kW), as the number plate on the vehicle highlights. In other words, this hot compact car has even more horses than the equivalent WRC rally car.
After the team at Eibach ensured that the horsepower is enough, it then focused on the cornering capability of this Ford, thus enhancing further its performance. Precisely, the tuners fitted Pro-Kit Performance Springs, bringing the Focus RS 20 millimetres closer to the ground. Next to the improved optics, the springs also reduce diving when braking as well as the rolling tendency of the body when cornering is happening.
SEE ALSO: Eibach Releases a Sportier Ford Mondeo Estate 
The next step is the installation of the in-house made aluminum Pro-Spacer Wheel Spacers, ensuring there is more stable tracking as well as a masterful appearance. Eibach Anti-Roll-Kit rounds out the suspension package, while the Performance Stabilizer Bars reduce rolling and pitching during cornering.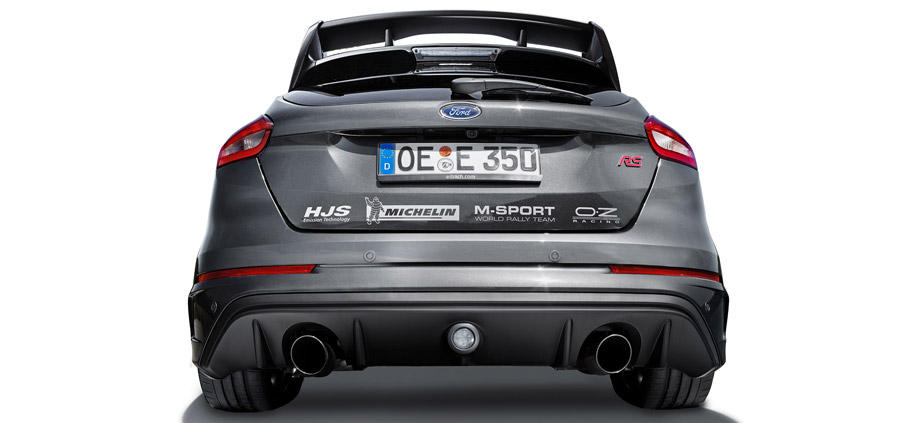 HJS specialists are also involved in this exclusive project as they offered tuning catalytic converter. It is the perfect addition to any type of sport exhaust system, providing 35 % reduction in exhaust backpressure. OZ and Michelin are also included in the project, offering Pilot Super Sport and the Cup version in the size 235/35 ZR19 on the wheel design 19-inch Leggera HLTs.
At last, but not least of importance, this road vehicle with 350 HP has received rally livery and as you can see the design is very cool! It is actually the official M-Sport design. Those of you, who already got impressed and are intending to visit the Essen Motor Show (26 November - 4 December) this year, can go see there the car live.
Source: Eibach