Flying Huntsman 6X6 Concept Debuts Today!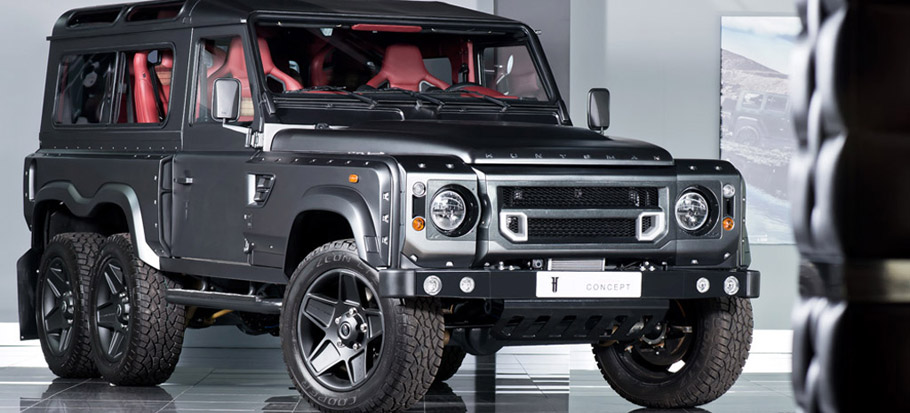 Kahn Flying Huntsman 6X6 Concept is hot exactly like the summer days right now. It has its exclusive premiere today and we are extremely happy to be among the first to introduce it to you! The vehicle looks gorgeous, and guess what, it runs on six wheels! If you want to view this beauty and be around its presence, you will have the opportunity to do that at the Billing Land Rover show. It begins today at the Billing Aquadrome in Northampton and ends on Sunday the 2nd of August.
Exterior
Of course, to add two more wheels means that the Defender had to be transformed in a clever way. In other words, extension and widening were very useful for this task. Precisely, the bonnet was extended by 400mm, while the rear cabin by 800mm. The width of the concept has been also enlarged by 150mm.
SEE ALSO: Kahn Reveals the Defender Based Flying Huntsman Pick Up
The Volcanic Rock Satin Defender also got some tweaks for its exterior. Take a look at the new front bumper, X-Lander grille and the exuberance of Kahn badging. The addition of a third axle at the back, and two front-wheels and four back-wheels is what make the Flying Huntsman truly stand out. All six got 9" x 20" Volcanic Black Mondial wheel coupled with Cooper LTZ 275/55/20 tires.
Engine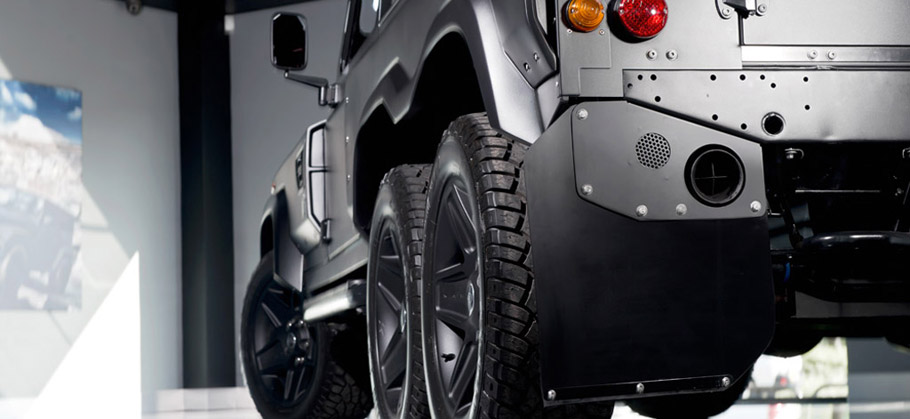 Besides the heavy-duty chassis, upgraded suspension and braking as well as the hi-lo ratio drive system and locking differentials, the six-wheeled Defender hides something very special under its hood. And it is the GM LS3 V8 engine, producing a total of 430 horsepower (316kW). The unit works perfectly in collaboration with a GM six-speed automatic gearbox. There is more to that: it channels waste through an upgraded stainless steel exhaust system.
Interior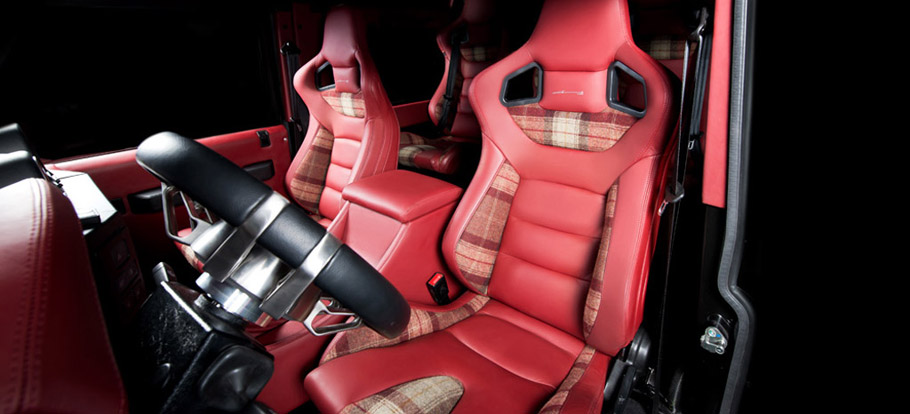 At last but not least, we should speak about the interior. It looks so cool, that I am regretting that I haven't seen this combination on other Kahn projects. For instance, there are Red Leather Sports seats with 100% wool Abraham Moon Skye Almandine inserts. Not to mention the quilted and perforated centre glove box or the Churchill time clock fascia insert. Finally, you have probably noticed already the single spoke steering wheel, ideally complementing the great new look of the cabin.
Go see it if you are in Northampton this weekend! It's worth it!
Source: Kahn Design