GeigerCars.de and Jeep Team Up and Release 718HP Grand Cherokee SRT

GeigerCars.de is a tuning company based in Germany which specializes in the customization of American-made cars. This time under their attention is the Jeep Grand Cherokee SRT, which has received some significant updates under the hood and minor exterior treatment.
Drivetrain
First and foremost here is the engine upgrade. Via a supercharger, the experts have boosted the standard figures of the 6.4-liter HEMI V8 engine under the hood of this Jeep. Precisely, the 2.9-liter supercharger features an intercooler.
SEE ALSO: Here is How GeigerCars.de Customized the Ford Mustang GT
Combined with the internal engine modifications including uprated pistons and the new ECU with its altered fuel and ignition software, the result is astounding: the vehicle can now produce up to 718 hp (528 kW) and 776 Nm (573 lb-ft) of torque.

Fortunately, GeigerCars.de has given us date how this car reacts against the stopwatch after the tuning was implemented. And the new numbers are quite spectacular. The SRT Cherokee blasts to 100km/h in just 3.9 seconds. The Vmax was also updated and it now stands at 295 km/h.
Exterior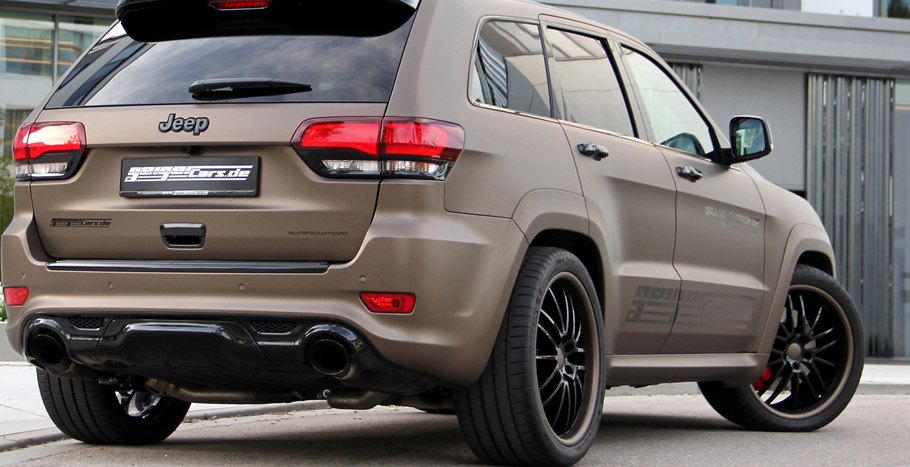 The enhanced performance nececarily needs improvements in safety. Therefore, the tuning company decided to offer performance suspension modifications via new lowering sport springs and uprated anti-roll bars that additionally reduce body roll in fast cornering.
Other than the foil wrap, which comes in brown-goldish color, and wheels and tires we won't see anything else changed here. The alloys measure 22-inch and come in black polished color, while the rubbers measure 305/35R22 at all four corners.
Source: GeigerCars.de