GEM Peapod: Meet the New Neighbor
With all the talk about alternative powertrain vehicles on the roads, many forget that Chrysler leads the industry with the most zero-emission electric vehicles. Chrysler subsidiary GEM, or Global Electric Motorcars, in the last decade has put 38,000 electric neighborhood vehicles on the roads.
Now GEM has a new name – GreenEcoMobility – and new styling to lead its expansion into the next decade. The new name signifies the company's goal of redefining environmentally friendly vehicles.
The GEM Peapod, which has a cocoon-like shape, sleek lines and an upbeat image, will go on sale in 2009. "As you can see, we have dramatically evolved the GEM's attitude and design to better meet car customer requirements and demands," said Peter Arnell, Chrysler Chief Innovation Officer, who led the design process for the Peapod. "The Peapod is designed for everyone. It's demographic is a mindset and lifestyle. It is ageless, optimistic and innovative. It's positive and modern. It stands for responsible consumer values. And for the first time in GEM, a center console will offer iPod integration as well as hands free operation of the drivers iPhone."
GEM also plans to begin producing within the next year a new commercial truck and a larger city electric vehicle with more range and power.
By replacing conventional vehicles, GEM vehicles can reduce overall emissions of pollutants, especially during short trips when conventional gasoline vehicles create the most tailpipe emissions.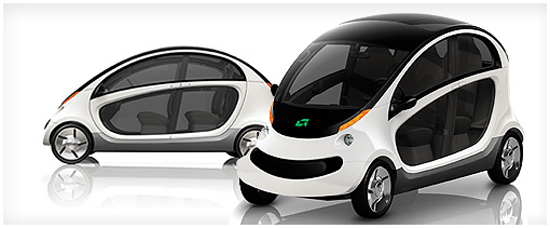 GEM neighborhood electric vehicles have a top speed of 25 miles per hour, and a range of up to 30 miles per charge. The electric vehicles are used in city centers, college campuses, military bases, parks – we brought you a feature here on the blog of how the Washington Nationals baseball team uses GEM vehicles at their ballpark.