GS Exclusive Maserati 4200 Evo
This is a Maserati 4200 GT Cambiocorsa dipped in the orange blood of a Lamborghini Gallardo. That is how G&S Exclusive, a company based in Albstadt, southern Germany, chose to customize their version of the 4200 called the "Evo". They also added some styling and restyling in a rather surprising way.
A lower, new front bumper houses a standard Maserati Coupe GranTurismo grille. To assure us of their respect towards the Maserati brand, G&S Exclusive have also retained the trident emblem, fog lights, parking lights and blinkers. The hood however, has been replaced with a new, more curvy one. Despite being called the "Evo", this Maserati actually has the back end of a 3200 GT, the car that was replaced by the 4200 back in 2001. According to G&S, many people expressed discontent from the new hind of the 4200 which was deemed characterless and less sophisticated. This one here also has a completely new rear bumper with a flamboyant diffuser. Alternatively, one can go for the defuserless version of that bumper but then, the car might lose its overall road-scraping feel. A pair of G&S sideskirts complete the Evo's exterior kit.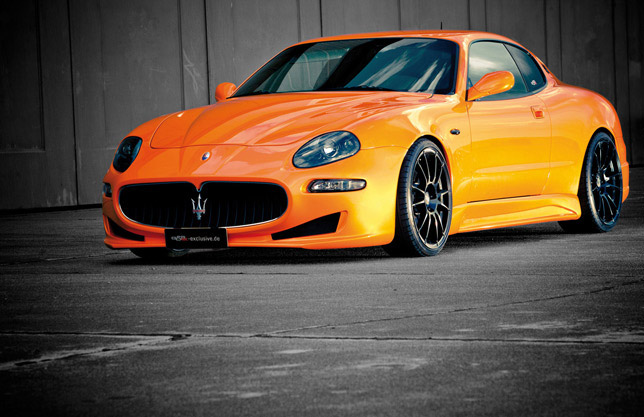 Two 85 millimetre double-ended exhaust pipes stick out from the cutaways of the rear bumper. That is how we know that the G&S people have fitted a Capristo exhaust system (EDS & MSD) with valve control, back pressure control and remote control functionality. Our guess is however, that one can figure this one out by simply hearing the amplified rumble of the V8 that comes out from the back. If you are planning to take this car out of Germany, than you can also go for the main exhaust silencer replacement pipes option. Other than that, Germany's officials (TÜV) wont have it.
The car's suspension has been chucked out and a new KW Variant 3 sports setup has been introduced. That means compression and rebound adjustment functionality (optionally with added hydraulic height adjustment). Needless to say that two pairs of 20 inch OZ "Ultraleggera" (ultralight) adorn the 4200 GT Evo from the outside - 8.5 x 20 and 10 x 20 front and back respectively. Dunlops, wrapped around the sporty designed wheels, size up to 235/30ZR20 on the leading axle and 275/25ZR20 on the driving axle. As an alternative, G&S offers three-part OZ Granturismo light alloy wheels with forged wheel stars in the same size mentioned above. In order to fit such monstrous size figures under the wheel arches (there are 20mm wheel spacers on each wheel!), the mud guards had to be extended by 10 mm on both front sides and 20 mm both of the rear sides.
Source: G&S Exclusive