Hamann BMW X5 F15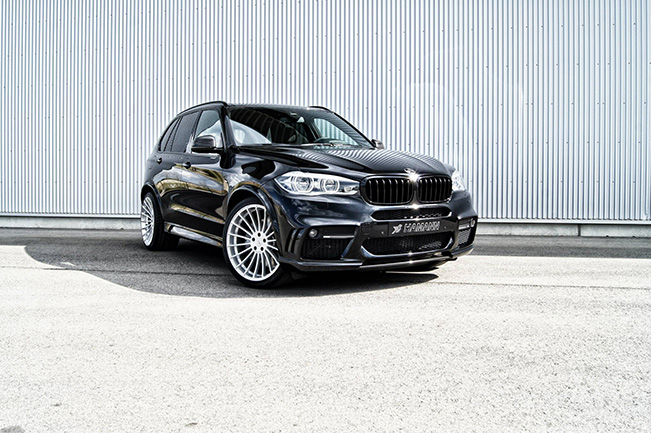 Hamann has revealed their latest project based on the 3rd generation BMW X5 – the F15 model. The SAV (sports activity vehicle) has received both styling and performance upgrades.
The exterior boasts a new front bumper with LED DRLs (day-time running lights) and also new fog lights. A new front lip (from fiberglass) is also available and can be ordered with a clear-coated carbon black finish. Other notable highlights include a pair of modified side skirts, a two-piece roof-mounted spoiler and different wheel designs available in several colors. Hamann also offers a a chrome or carbon quad exhaust system, which can be mounted on the modified or standard rear bumper.
The interior comes with a set of aluminum pedals and foot rests. There are also new branded floor mats and different finishes.
There are performance packages for M50d, sDrive25d and xDrive25d as well as the xDrive30d and xDrive40d.
The M50d is boosted to 434HP (319 kW) and 830Nm (615 lb-ft) of torque – an increase of 53HP and 90Nm. The sDrive25d and xDrive25d now deliver 251HP (185 kW) and 502Nm (372 lb-ft) – an increase of 33HP and 52Nm. The xDrive30d is pumped to 295HP (217 kW) and 605Nm (448 lb-ft) – additional 37HP and 45Nm. Finally, the xDrive40d is boosted to 355HP (261 kW) and 695Nm (515 lb-ft) – an increase of 42HP and 65Nm.
The petrol range, which includes xDrive35i and xDrive50i also get performance upgrades. The 3.0 liter turbocharged I6 is boosted to 348HP (256 kW) and 449Nm (333 lb-ft) – an additional 42HP and 49Nm, while the 4.4 liter twin-turbo V8 now develops 490HP (360 kW) and 707Nm (524 lb-ft) – an increase of 40HP and 57Nm.
Source: Hamann