Hyundai Motor Introduces New High-Performance V6 Lambda RS Engine
Hyundai Motor Company's Powertrain R&D Center at Namyang has developed a new high-performance V6 Lambda RS (Rear wheel drive Sports) engine which will see its first application in the Genesis Coupe to be launched in Korea this month.
Based on the highly successful Lambda first introduced in 2004, the RS edition features several key modifications which have raised power to a maximum of 310ps@6300rpm (310hp for US Market) and peak torque to 36.8kg/m@4700rpm.
Because of the sporty, low hood line of the Genesis Coupe, RS engineers trimmed 5cm from the height of original Lambda engine design forcing a major redesign of the intake and exhaust system.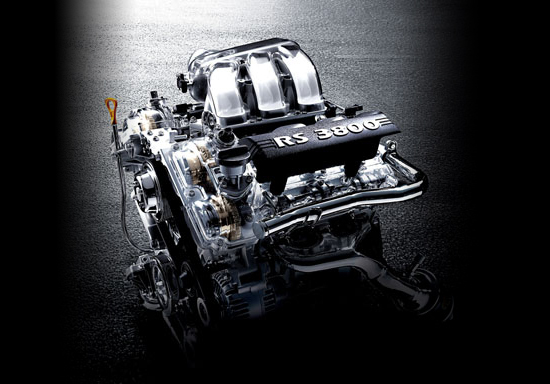 The exhaust manifold's length and cross section were optimized for reduced resistance which maximizes high speed performance and yields a pleasingly sporty exhaust note.  At the same time, the diameter of the intake port in the ETC (Electronic Throttle Control) module was enlarged to improve engine breathing.
Attention was also paid to stiffening the aluminum engine block so it could endure higher stresses while a piston cooling jet was added under each cylinder to reduce thermal loading and prevent heat damage. A further boost in performance was attained by adopting more aggressive camshaft profiles on the Continuously Variable Valve Timing system which governs both the intake and exhaust valves.
The Lambda RS will come with a choice of transmissions: six-speed automatic or a six-speed manual.