Hyundai's New U2 1.6 CRDi Achieves Best-in-Class Performance for Compact Vehicles
The Powertrain R&D Center of Hyundai Motor Company has completed development of a new, more fuel efficient and cleaner diesel engine for compact passenger vehicles (C-segment and below).
Displacing 1,582cc, the U2 is an inline four cylinder engine which utilizes second generation common rail diesel injection system to deliver class-leading performance.
"Our diesel engine development capabilities are truly world-class and the proof can be seen in the U2.  It's the leader of the class and it makes us proud," said Dr. Hyun-Soon Lee, president of the Hyundai-Kia Corporate R&D Division.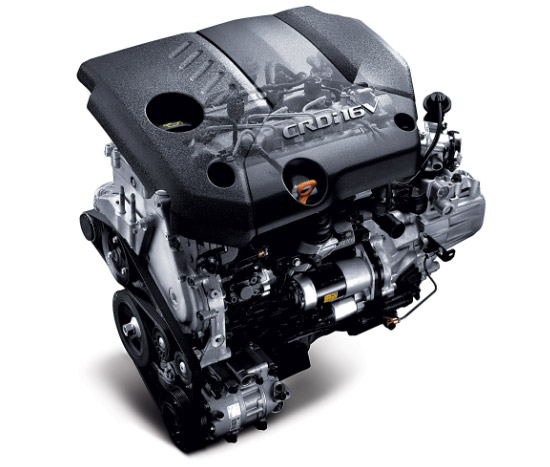 The first car to have the U2 engine installed will be the successor model of the Getz, the all-new i20 sub–compact. The i20, due to be launched in Europe towards the end of 2008, will be produced at Hyundai Motor Co.'s Indian subsidiary in Chennai.
By combining their advanced engineering know-how with state-of-the-art technologies such as a variable geometry turbocharger, a variable swirl control system and an electronically controlled exhaust gas recirculation (EGR) cooling system, the U2 development team was able to successfully optimize the ports and combustion chambers. This endows the U2 with outstanding fuel economy (4.7 L/100km) and low emissions (125g CO2 /km).  Moreover, the U2 is fully compliant with the latest Euro4 emission standards. The optional particulate filter reduces particulate matter to Euro 5 standards which take effect next year.
At the heart of the power plant is a new 1600 bar CRDi system which is capable of delivering up to five injections per cycle permitting much more precise control than was possible with the previous 1350 bar system.  As a result, the U2 generates a total power output that measures an impressive 128PS(94kW)@4000rpm. Torque is rated 26.5kg.m(260Nm)@1900~2750rpm--best in its class, and more than 90 percent of the maximum torque is achieved at 1500rpm.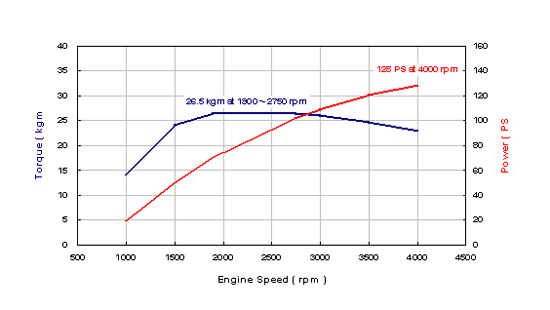 Other refinements include a variable swirl control system which helps to minimize emissions and a chain drive for improved reliability in valve train control and a bed plate-type lower crankcase for better block rigidity, lower noise, vibration and harshness.  The auxiliary belt is a serpentine-type for improved reliability and compact packaging.
NVH
The U2 claims to be the quietest engine in its class, measuring up to two dBA lower than leading competitors.  During the course of development, the main sources of noise emission were identified and appropriate measures were implemented. Since the 1.6 liter engine was equipped with chain drive for valve timing control, the chain and cover systems were identified as one of the main sources of noise. Structural analysis was performed for design improvement and based on modal analysis the chain and head cover structure was reinforced by applying ribs. The shape and structure of the oil pan was also improved as the oil pan was another big source of noise emissions. Structural analysis was also done to investigate the effects of rib shape and rib location on noise characteristics and thus, developers were able to arrive at an optimally shaped oil pan.
The U engine, first introduced in 2005, has grown to a family of engines that includes 1.1-liter 3-cylinder and 1.5-liter 4-cylinder variants which utilize a common architecture and share components for maximum manufacturing efficiency.