I Love the 60's American Muscle Cars: Fisker and GAS Reveal Ford Mustang Rocket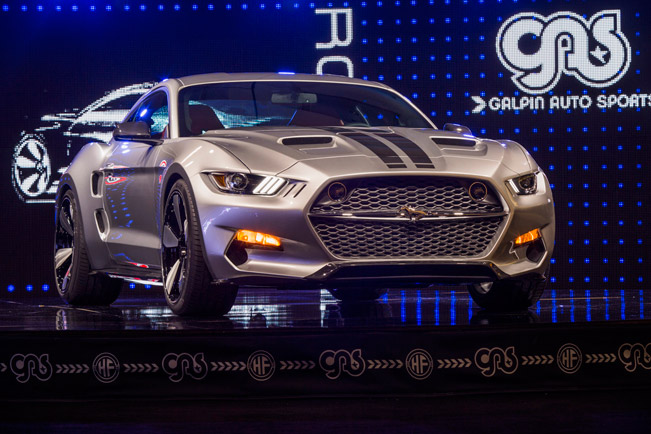 Galpin Auto Sport (GAS) and Fisker have collaborated to create unique Ford Mustang Rocket, which is inspired by those pony cars of the 1960's and early 1970's. The most accurate example is the 1968 Shelby GT500. The car is characterized by hexagonal carbon fiber grill, split by a polished aluminum bar and wild horse running across the horizon. The Rocket features elongated lines, sculptured flared fenders and new rear spoiler. This tuning is definitely athletic and we must confirm that it surely pays homage to those iconic Mustangs of the 60s.
The renowned concept car builder GFMI Metalcrafters constructed the handmade carbon-fiber bodywork. It includes various functional scoops and vents that direct airflow. The front splitter draws out hot air from and makes better the engine cooling. In fact, it works simultaneously with the rear spoiler, enlarged rear diffuser and polished carbon fiber aero skirts.
As you can see Rocket's sculptured hood has two large air intakes. Of course, they were designed to channel cooler outside air through the engine compartment. Speaking of the engine, it is the 725 hp (533 kW) V8 unit. There are also two additional scoops, mounted on the rear fenders ahead of the wheels, which help channel air to cool oversized 15-inch Brembo Grand Turismo high performance brakes.
The exterior of the muscle car looks amazing thanks to the custom mixed silver paint dubbed Éminence Grise. This design scheme is strengthened by the large 21-inch ADV.1 wheels with Pirelli P-Zero extreme performance tires. The rubbers are supported by a front and rear independent and adjustable suspension.
And the most exciting news is that this is not a one-off concept but the first example of a low-volume series. The production of the car is scheduled to begin this month and the first deliveries are expected in the beginning of 2015.
Source: Galpin Auto Sport