Meet Kaege Porsche GT3 RS: Lighter and More Powerful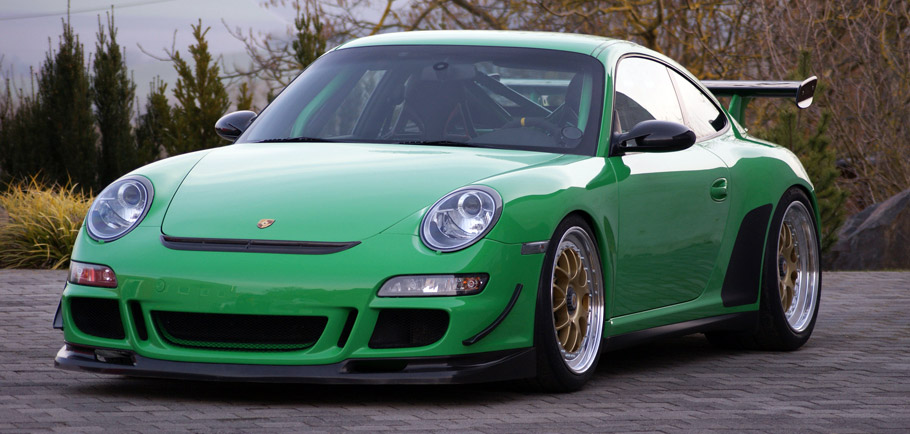 One has to be very brave to make any kind of tuning on a Porsche, especially a GT3 RS. This however, didn't scare the specialists at KAEGE Automobiles, who stepped in when it came to the conversion of this particular model. The main changes are in the engine, there is also a lot of weight optimization done as well as some exterior and interior cosmetic tweaks.
Optimization of Horsepower and Weight
To start with the performance boost, we should first tell you that the stock 3.6 liters engine of the Porsche GT3 RS produces no less than 415 HP (305 kW). First, the experts added club sports packet, and then the additional optimization required an installation of M+M muffler system with fan type exhaust manifold and 200 cells cats. The result is an addition of 8 HP and weight reduction by 7 kg.
SEE ALSO: Kaege Reinterprets the Porsche Macan S [VIDEO]
This also affects the sound sent into the surroundings, which is now exceptional. An extra 7 HP is 'received" due to the carbon fiber air box, which ensures higher air inlet. Furthermore, the weight distribution from rear to front was optimized due to the substitution of the hydraulic pump with an electrical power steering pump. This adds 10 HP.
Modified air filters and the Sachs sports clutch lighten the weight of the Porsche additionally. Shortening the distance from the steering wheel to the gearshift also shortens the shift time and this is due to the remodeling of the standard gear shift to CAE-Shifter.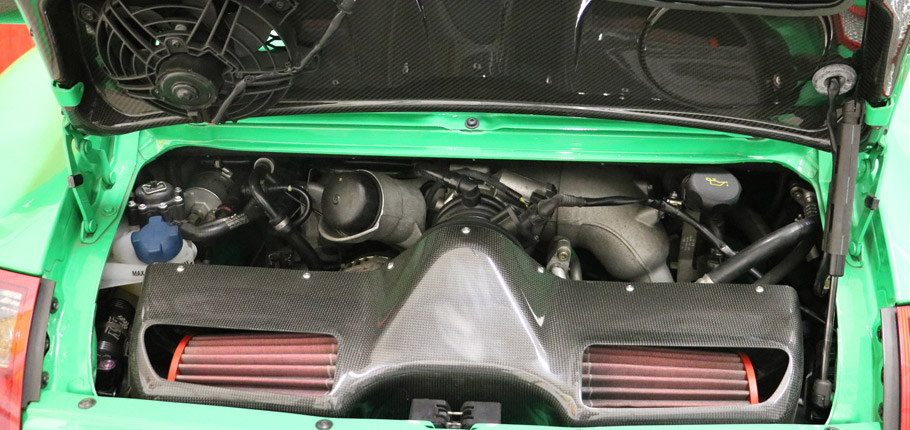 Suspension
This project seems to be pretty special, since it rides on in-house made BBS racing sports rims measuring 19-inch. They reduce the unsprung masses by 9 kg additionally, but lend also the desired racing look. The new wheels are matched Michelin Pilot Sport Cup 2 type tires with typical for Porsche N-code. An adapted aluminum made triple KW competition chassis with completely uniball suspended transverse control arms and track rods ensure the excellent road holding.
The weight reduction proceeds with 15 kg due to the installation of a Liteblox lithium ions battery, and with 20 kg via the demounting the navi device and by modifying the impact protection.
Sportier Interior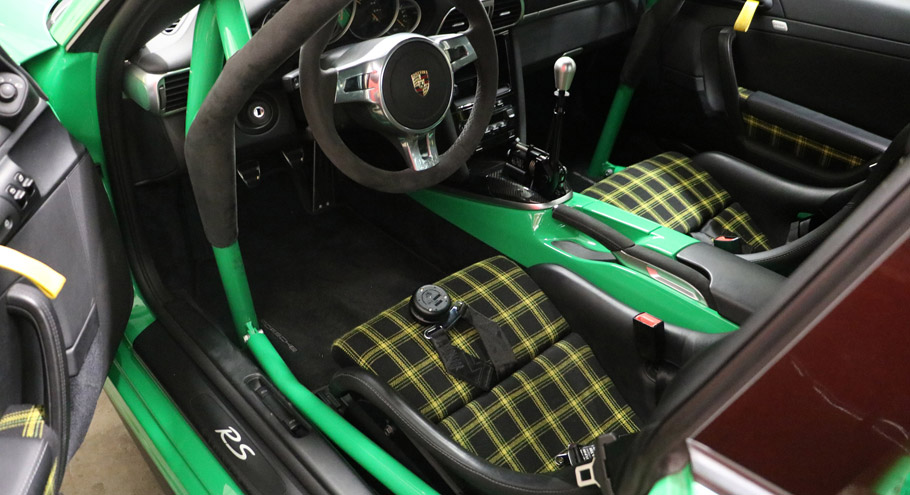 The interior changes feature retro-style checkered fabric upholstery for the light construction seats. Moreover, the center console, the rollover bar and some of the interior parts are painted in car color, while the steering wheel has been taken from the 4-liters GT3 and the trunk's appearance has been changed.
And last, but not least, for more comfortable and joyous journey the tuning experts have added a travel and helmet bag matching to the seat upholstery… just like Vilner started adding such goodies to their conversions years ago.
Source: KAEGE Automobiles via Miranda Media