Chelsea Truck Company CJ300 Expedition Military Green Jeep by Kahn
With the London Olympics right on our front doorstep, many automotive institutions tend to relate by issuing a themed vehicle or at least a clever promotion. The guys at Kahn however would rather accent on athletes and thus release a... Chelsea Truck CJ 300 Expedition Vehicle which is a Jeep Wrangler in military green. Maybe the focus is more on the security organization around the games. (It's actually for triathlon athletes this Jeep).
No military vehicle however can boast brake calipers dipped in liquid gold. The headlights and the indicators are smoked thus looking sleeker and yet less prominent especially in the presence of LED daytime running lights. Apparently, a lot of work has gone into modifying the front grille – there's talk about special openings on the valance and the grille area, better airflow to the radiator, intercooler and brakes etc. Some sense of luxury in this otherwise seemingly crude vehicle is brought by the stainless steel sill plates. Then there's the back with the Kahn enamel tailgate and the branded spare wheel cover. Kahn cross hair exhausts in stainless steel emit style and subtlety. Finally, the wheels round up the look – Smoked black Kahn RSs measuring at 9 x 20 that fit all original center caps.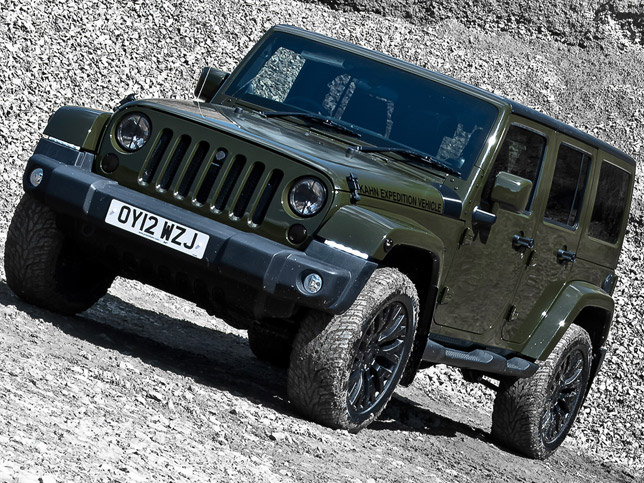 Inside, the seats are heated and the pedals are all aluminum with wholes in them – stylish, yet hardcore. Kahn have taken into account that you might be entering in and out of the CJ 300 with muddy boots so everything is easy to clean and non-absorbent. It's still mainly leather though - quilted and perforated front and rear seats in black with matching stitching while the speedo and rev counter fascia is in red.
Source: Kahn Design