Kia bares it's Soul – production car keeps original concept name
Kia Motors has confirmed its all-new segment-busting car will retain the name and spirit of the concept from which it evolved – Soul.
First seen as the SOUL concept car at the 2006 North American International Auto Show in Detroit, a trio of concept developments then appeared at the 2008 Geneva Motor Show which gave a strong indication to the many characters the new Kia could take on.
Mr Hyoung-Keun Lee, Senior Executive Vice President and COO, International Business Division, Kia Motors Corporation, said; 'Reaction from the media and public to the three SOUL concept cars seen at the Geneva Show in March and shown subsequently at other international events, has been overwhelmingly positive.  This reaction, plus the fact that both physically and emotionally, the SOUL concept cars are so closely related to the new Kia Soul production car, made it a natural choice to retain this evocative name.'
The three Geneva concept cars – SOUL Burner, SOUL Diva and SOUL Searcher – were created by Kia's European design team led by Gregory Guillaume, with input from Kia's Chief Design Officer, Peter Schreyer.  The original SOUL concept was designed jointly by Kia's Californian and Korean design studios.
Speaking about the choice of name for the original 2006 Detroit concept car, Tom Kearns, Chief Designer of Kia Motors America, said; 'We wanted to inject some life into this car's design, to give it a soul.  And the word 'Soul' is a homophone for the home city of Kia Motors headquarters, in Korea, so it is a fun play on words.'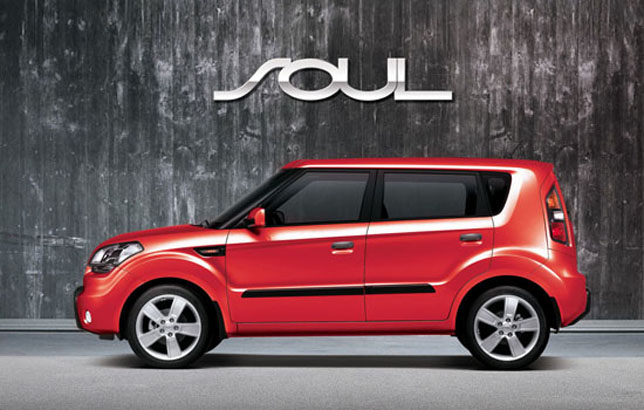 Peter Schreyer added; 'The name SOUL accurately reflects how people will be able to 'express their spirit – their psyche' with this new product.  Through a variety of options, accessories and colours, they will be able to personalise their Kia Soul and create a sense of individuality, making their new car a true reflection of their personality.'
Looking to the 2008 Paris Motor Show, Gregory Guillaume said; 'Because the new Kia Soul is not a replacement for an existing vehicle and is destined to play a unique role within the Kia global line-up, it can be a bit of a rebel.  The trio of Geneva concepts were 'appetisers' for the new model introduction at Paris, and you can be certain that the new Kia Soul model will retain the core DNA of the three exciting concepts.'
The Kia Soul defies classification and its design will encourage customers to build an emotional bond with this new car.  Production of Soul will begin in Korea in September 2008 with UK cars appearing in early 2009.  Kia believes Soul will provide a creative platform for buyers to individualise and match their car to their own personality.
The Kia Soul production car will make its world premiere at the Paris Motor Show in October this year and is expected to go on sale in the UK in early 2009.