KW 2014 Seat Leon Cupra - Adaptive DDC Coilovers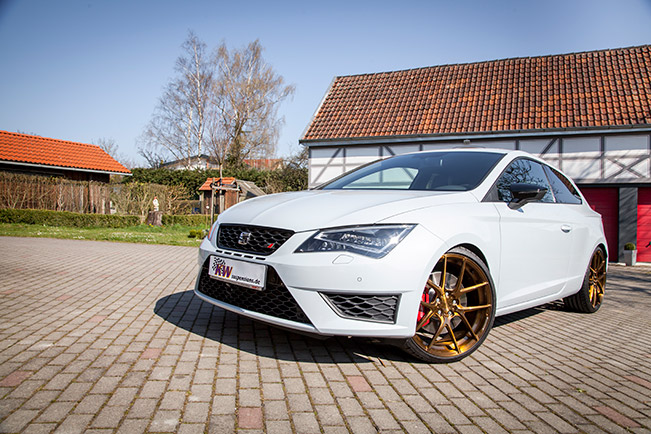 KW Automotive is now offering DDC plug&play coilovers specially developed for cars with electronic suspension damping. The KW plug&play kits work in perfect harmony with the OEM control.
The adaptive KW DDC suspension systems are compatible with a variety of cars with electronic damping control and the tuning specialists now offer a set for the ex- King of the Ring – 2014 Seat Leon Cupra 280.
The adaptive DCC suspension control (Dynamic Chassis Control) is an integral part of the standard equipment on selected "sports" Seat models such as the Leon Cupra and can be chosen as an option on the rest of the range.
"When installing the KW DDC coilovers, the original struts simply have to be replaced by the KW stainless steel coilovers", commented KW Product Manager Johannes Wacker.
"Afterwards, each damper only has to be connected with the Seat on-board electronics via the compatible KW plug-in connection. It's really easy!", he added.
The KW DDC plug&play coilover kit uses dirt-resistant KW trapezoid thread on the stainless steel struts and on the rear axle height adjusters, meaning the Seat Leon can be varied in ground clearance by the millimeter. The German TÜV tested adjustment range allows a continuous lowering of 35 to 65 mm on both axles.
Source: KW