KW coilovers Variant 3+ for Mercedes-Benz SLK 55 AMG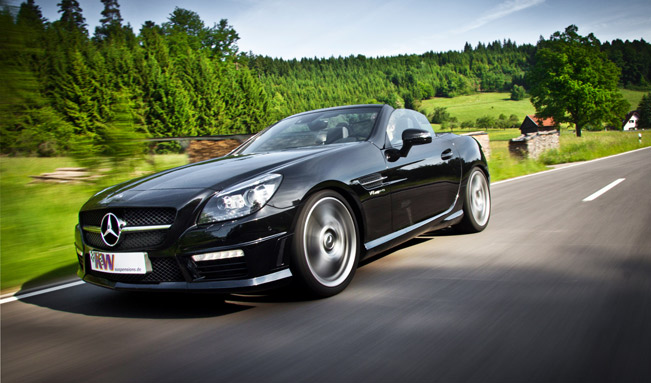 KW Automotive have come up with a Variant 3+ "inox-line" coilover kit for the Mercedes-Benz SLK 55 AMG. It offers enthusiastic drivers some space for experimenting with the firmness and rebound etc. Hopefully, the KW customers will be entitled to an AMG-superior performance as an end result.
Even if you plan to replace the stock wheels, the driving behavior can be optimally adapted since the adjustment wheels are integrated in the damper housing, so no separate tools are required. The rebound settings are essentially 16 clicks which can be made within the engine bay. On the other end of the piston rod, adjustments of the compression can be made by choosing between 12 clicks. Thus one can control body roll without affecting the rebound damping. Needless to say that thanks to a dirt-resistant trapezoid thread on the stainless steel strut, one can lower the SLK 55 AMG Roadster within a TUV approved range (from 5 to 25 mm). The back can go from 15 to 35 mm.
The Mercedes-Benz SLK 55 AMG is the latest from the iconic Mercedes roadster range. It's also the most powerful history-wise. Under the hood there hides a 5.5 AMG 416 hp V8 engine that's good for a 0–100 km/h run in just 4.6 seconds. With the KW coilover, you get that extra flexibility with which you can find your style of driving best.
Source: KW Automotive