KW Mercedes-Benz CLA-Class Offers Better Driving Dynamics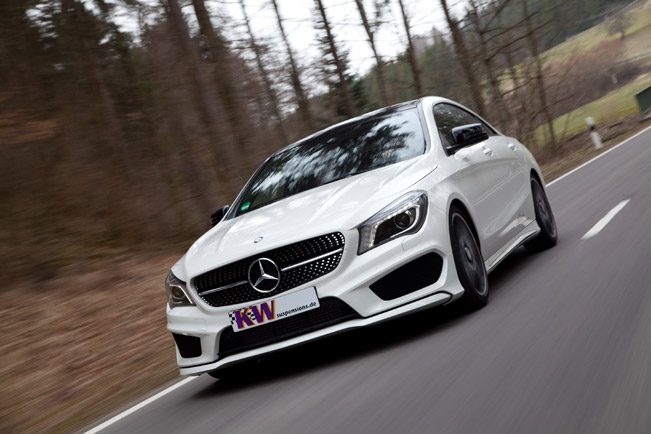 In the beginning of the year we have seen the birth of the 2014 Mercedes-Benz CLA-Class. Through the adoption of the design of the Concept Style Coupé, Mercedes-Benz has established brand new segment in the automotive industry. The CLA was initially offered with high-torque turbo engines rated at up to 211 horsepower (155 kW) and sports suspension.
KW Mercedes-Benz CLA-Class comes to offer more driving dynamics to those who are impatient to wait for the AMG version of the CLA. The model is equipped with special KW stainless steel coilovers which allow continuous lowering of up to 60 mm.
There are two variants of the coilovers offered – Variant one and 3+, the later from which additionally allows a targeted damper setup. In addition, the rebound and compression forces can be adjusted to the individual driving style.
To go further into details, the Variant 1 coilovers come with fix configured damper setup, thus giving the Mercedes-Benz CLA-class an extended balance, sportiness and practicality. On the other hand the KW coilovers Variant 3+ additionally adjust the rebound and compression damping independent of each other.
In fact, the compression damping can be adapted via an integrated adjustment wheel at the bottom of the damper housing. There are needed only twelve precise clicks. In addition, the separately adjustable rebound valve allows fixation of the characteristics of the damper with only sixteen clicks to new tires and larger rims. At last, at the rear axle, the lowering is achieved through the rear axle height adjustment, which has a range from 30 to 60 mm.
Source: KW