Maxi-Tuner MINI Cooper S F56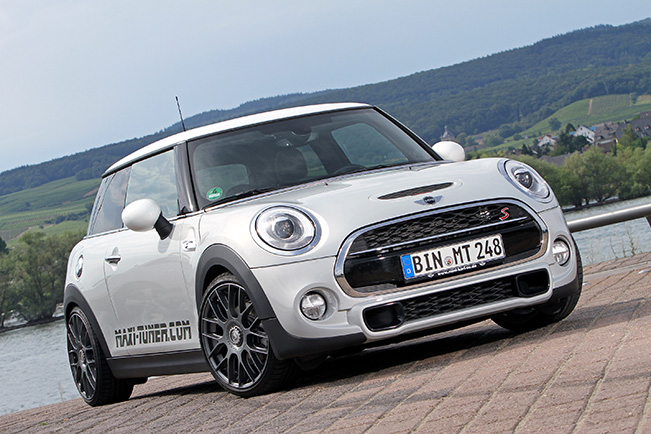 Maxi-Tuner has unveiled performance package for the new MINI Cooper S. The hot hatchback comes with a number of upgrades including both – styling and performance modifications.
The exterior boasts a set of Schmidt Shift rims – 8J x 18" fitted with Goodyear tires in size 215/35 R18. There is also a set of lowering sport springs improving not only the stance, but the handling as well. The lowering springs are provided by H&R.
The 2015 MINI Cooper S is powered by a 2.0 liter turbocharged petrol engine with 192HP (141 kW) at 4,700RPM and 300Nm (221 lb-ft) of torque at just 1,250RPM. The engine is connected to a 6-speed manual gearbox. 0-100 km/h in 6.9 seconds and a top speed of 232 km/h (144 mph). Maxi-Tuner boosts the small engine to 220HP (162 kW) and 340Nm (252 lb-ft) of torque. 0-100 km/h in 6.5 seconds and a top speed of 240 km/h (150 mph).
The tuning specialists also provide different tail pipe designs for the regular exhaust system as well as a valve sports exhaust system or a cup exhaust system. The valve system can be licensed through individual technical inspection directly in Maxi-Tuner's workshop. The cup version is meant solely for export or usage on the race track, because of the extreme noise.
Performance boost package: €899
Exhaust systems: from €699
Wheel set: from €1,498
Lowering spring set: €279
Source: Maxi-Tuner