Mazda CX-9 At 2008 Moscow Motor Show
Launched in North America in 2007, Mazda CX-9 was praised as a new crossover SUV that combines a sleek and sporty look and an exhilarating driving experience with high quality, space and flexibility. Mazda's first three-row SUV has been a hit since then with customers and experts alike, winning North America's coveted 2008 Truck of the Year award, which includes medium/large SUVs, and selling more than 53,000 units globally through June 2008.
The secret to this success has been an outstanding package that befits a Mazda flagship SUV. CX-9 combines great looks, room for up to six to travel in comfort and style, fun driving attributes and a long list of equipment (depending on market) including a new 3.7-litre V6 engine coupled to a six-speed automatic transmission with manual shift mode, and an Active Torque-Split All-Wheel Drive system that ensures great traction in all road conditions. This package makes it a highly appealing alternative in the medium/large SUV segment.
Exterior Design – Emotional Appeal and Prestige
Mazda CX-9 provides SUV roominess and comfort for six on the inside, with a sleek appearance that has high emotional appeal. This effect is created by a silhouette with a flat windscreen angle, thin tapered windows, large fenders and a rising belt line. At the front, the new CX-9 emphasises power and build quality with a big front bumper, sleek headlamps with silver-look edges that wrap into the fenders, and a sculptured bonnet. The rear design features a five-point rear window and a large rear bumper for stability and strength. To this it adds sporty touches like a roof spoiler, dual trapezoidal exhaust pipes and 10-spoke, 20-inch aluminium alloy wheels (depending on market). Insightful details like the silver-look mouldings for the lamps, the chrome used for the grille bar and front intake areas and available turning signals in the side mirrors, all add a sense of prestige to owning a new Mazda CX-9.
Interior Design – Roominess and Quality
Despite looking more like a sports car than an SUV on the outside, on the inside Mazda CX-9 uses its full size – with a length of 5,089 mm, a width of 1,936 mm and height of 1,728 mm – to deliver SUV roominess, high quality craftsmanship and materials. Occupants are greeted by decorative, wood-like embellishments on each side of the centre console and at both ends of the dashboard. The cockpit has a driver cluster with black-out meters, indirect illumination and silver rings. Its leather seats (depending on market and grade) have a sporty look, are firm and durable, with high-quality stitching and are matched to trim materials with superior quality feel and silver accents throughout. Two interior colour packages are available, in either black or sand.
Comfort, Functionality & Equipment – Fun to be in and Use
The new Mazda CX-9 offers a long list of standard features. This includes an all-new 3.7-litre V6 engine coupled to a 6-speed automatic transmission with manual shift mode and Active Torque-Split all-wheel drive. Also available (depending on market) are a burglar alarm, privacy windows, power windows front and back, power adjustable and heated front seats and driver's seat memory function (for up to five settings). Other available features include three-zone heating and air conditioning, a premium BOSE®, 10 speaker 277 W audio system with Centerpoint® surround system and AudioPilot® noise compensation, rain sensor and auto light systems, and an Advanced keyless entry and start system for unlocking all four doors automatically from outside the car. The card key also operates the power rear liftgate. Combined with the high level of craftsmanship and build quality of Mazda's flagship SUV, and you have an overall package that stands out in the non-premium SUV segment.
Superior NVH for a Quiet Cabin
All these features can be enjoyed to the fullest, because CX- 9's cabin is designed to be quiet and relaxing, even at cruising speed on the motorway. Its new V6 engine and automatic transmission are smooth and quiet (see Powertrain below). And it supplements this with noise-suppressing foam applied at 22 locations in the body shell – the most of any Mazda vehicle ever – and various structural technologies which effectively dampen road and wind noise from reaching the cabin.
Roominess, Comfort and Seat Variability
The dynamic exterior of the Mazda CX-9 is not achieved by sacrificing SUV comfort and seat flexibility. With one of the segment's longest wheelbases (2,875 mm), the Mazda CX- 9 offers space for a maximum of six people. The cockpit is designed to support this by being easy to use and practical. The steering wheel is both tilt and telescopically adjustable. The leather driver's seat is power adjustable for slide and height, has electric lumbar support adjustment and a seat position memory system that can store up to three different driving positions and two additional positions using the two card keys – and the front passenger seat is power adjustable as well. The shift lever of the six-speed automatic transmission is positioned high at the front of the floor console where it can be easily operated in either automatic or manual modes, and the steering wheel has audio controls and cruise control (depending on market). This is combined with large and comfortable back seats that can be folded individually to create a large load space. There is even a handy strap at the back of both third row seats that lets you fold them into the floor and lets you pull it back up again. And of course practical storage compartments can be found everywhere in the cabin. There is a large front floor console that comes with an auxiliary jack (AUX) for hooking up and playing an MP3 player using the car's premium audio system; and a 12-volt power outlet that can be used to recharge the batteries of your notebook, mobile phone and other electrical equipment.
Powertrain – Smooth and Powerful
The powertrain for the Mazda CX-9 was chosen specifically to support the vehicle's high quality look and feel with an exhilarating yet sophisticated driving experience. Under the bonnet is a new MZI 3.7-litre V6 petrol engine that produces 204 kW/273 HP (SAE-NET) of maximum power at 6,250 rpm, and a robust 366 Nm of torque at 4,250 rpm – making it the most powerful engine in the Mazda line-up.
This 60° short-stroke V6 has a die-cast aluminium block with cast-in iron cylinder lines and aluminium cylinder heads – for minimal weight and high durability – and it adds advanced engine technologies to optimally combine performance with acceptable fuel consumption. These include sequential valve timing (S-VT) for optimised engine torque at all speeds. It also has a high compression ratio of 10.3:1 and electronic throttle control, which helps provides instant response to pedal input for lots of driving fun. Two catalytic converters make sure the Mazda CX-9 meets Euro Stage IV emission standards.
Yet despite its fun-to-drive nature, the MZI 3.7-litre V6 has low NVH levels for a crossover SUV. To achieve this, a highly rigid cylinder block is used to reduce engine vibration, the side frame engine mounts are reinforced to reduce transmission vibration, and the forged-steel crankshaft has a dual-mass damper for smooth operation. Camshaft vibration is kept to a minimum by the use of sprockets with rubber cushion rings, and the intake manifold is designed to reduce intake air undulation and resistance.
Six-Speed Automatic Transmission with Manual Shift Mode
These engine technologies are combined with a six- speed automatic transmission with manual shift mode as standard equipment. This transmission provides an optimal balance between acceleration, ride comfort and quietness. Broad gear ratios ensure lively acceleration and smooth, powerful cruising speed, while the top two gears are laid out as overdrive, which helps save fuel when driving on the motorway. In automatic mode, it delivers a sporty shift feel and quick response to pedal input, and near manual-like shift characteristics in manual shift modes, for the best of both worlds.
Chassis & Safety – Responsive and Safe
Mazda CX-9's stiff body shell and chassis systems – combined with the smooth, cultivated power of its V6 engine – make for an exciting driving experience not usually found on an SUV this size. And these superior dynamic attributes play a major role in making the CX-9 something special in its class.
Zoom-Zoom Handling
The CX-9 body shell has a highly rigid structure in the lower body with multiple cross members under the floor, a reinforced upper body area at the C-pillar, a high-tensile steel B-pillar and special roof reinforcements. This structure is made even more robust by the incorporation of crossing seat frames between the cross member of the floor and by the use of more laser spot welds and weld bonds than most of its competitors. All this results in high torsional and flexural rigidity, which delivers superior stability and Zoom-Zoom handling – without making Mazda's flagship SUV unduly heavy.
Its McPherson strut front suspension uses a 6-point rubber mount perimeter frame. This gives strong support and a sharp, linear feel to its hydraulic power assist rack-and-pinion steering system. The multi-link rear suspension employs one trailing arm and two lateral locating members on each side, and a rear frame with two rubber mounts on each side. The connecting points of the trailing arms are placed higher than usual, which further improves their stability during braking. The link layout is optimised to provide consistent wheel alignment when external forces are acting on the rear suspension, for predictable handling.
Superior Traction – Mazda's Active Torque-Split All-Wheel Drive
A main contributor to the predictable handling of the CX-9 is its Active Torque-Split All-Wheel Drive system that provides traction in all road situations. Based on the system used by the CX-7; it monitors road conditions, ABS/DSC operating conditions, wheel speed and engine operation to optimise torque between the front and rear wheels (between 100:0 and 50:50). Depending on these factors, the system automatically selects snow mode or normal mode, and torque is distributed to the front and rear wheels by the coupling unit for optimised traction.
High Levels of Safety
Mazda CX-9 is also one of the safest SUVs. Active safety features include a high seating position for great all around visibility, large front and rear ventilated disc brakes (320 mm and 325 mm respectively) combined with roll stability control (RSC), ABS, emergency brake assist (EBA), electronic brake-force distribution (EBD) and DSC (depending on market and grade). The foundation for CX-9's passive safety system is its body shell. Using high-tensile steel and large-section body members, it disperses impact energy away from the passengers and keeps body deformation to a minimum during a collision. Also onboard is a special front sub-frame extension designed to help prevent the front of the CX-9 from climbing up the front of an on-coming vehicle in a head-on collision. Passengers are further protected by front, side and three- row curtain airbags (depending on market and grade), three-point seat belts with pretensioners and load-limiters for the front seats, a collapsible brake pedal and specially designed front head restraints that help reduce possible neck injuries during a rear impact. No wonder the Mazda CX-9 received the highest possible ranking of five stars on frontal and side impact crash testing from the U.S. government's National Highway Traffic Safety Administration (NHTSA), and a four-star rollover resistance rating.
CX-9 Technical Specifications:
Mazda CX-9
Body Type
Monocoque
Doors
4 plus rear liftgate
Seating capacity
6
Coefficient of drag
Cd
0.36
Cross-sectional area
m2
2.736
Boot measurements
Volume all seats up (floor to ceiling)
267
Volume 3rd row down (floor to ceiling)
928
Volume 3rd and 2nd rows down with /
without sunroof (floor to ceiling)
1,887 / 1,911
Load floor length 3rd row down
mm
1,243
Load floor length 3rd and 2nd rows down
mm
2,092
Load floor height from ground
mm
784
Luggage compartment threshold
height from ground
mm
794
Luggage compartment width at widest point
mm
1.486
Distance between rear wheel housings
mm
1.170
Luggage compartment height
(floor to ceiling)
mm
884
Rear liftgate opening width
mm
1,201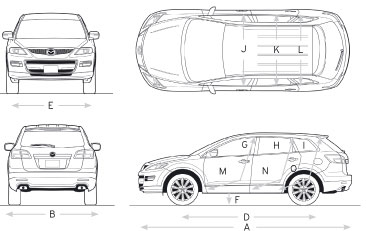 Dimensions
| | | |
| --- | --- | --- |
| External | | |
| A Overall length with plate holder | mm | 5,089 |
| B Overall width with side body protectors | mm | 1,936 |
| C Overall height with roof rack | mm | 1,728 |
| D Wheelbase | mm | 2,875 |
| E Track front / rear | mm | 1,654 / 1,644 |
| F Ground clearance (loaded / unloaded) | mm | 147 / 204 |
| | | |
| Interior | | |
| G Front head room with / without sunroof | mm | 975 / 1,005 |
| H 2nd row head room | mm | 990 |
| I 3rd row head room | mm | 899 |
| J Front shoulder room | mm | 1,510 |
| K 2nd row shoulder room | mm | 1,490 |
| L 3rd row shoulder room | mm | 1,444 |
| M Front leg room | mm | 1,038 |
| N 2nd row leg room | mm | 1,010 |
| O 3rd row legroom | mm | 824 |
Mazda CX-9 – Engine & Chassis

| | | |
| --- | --- | --- |
| | MZI 3.7-litre Petrol | |
| Engine Type | | V6, DOHC, 24-valve petrol |
| Displacement | cm3 | 3,726 |
| Bore x stroke | mm | 95.5 x 86.7 |
| Valves | | Four per cylinder with sequential valve timing |
| Camshaft drive | | By chain |
| Fuel injection system | | Electrically controlled |
| Compression ratio | | 10.3 : 1 |
| Emission control system | | Electrically controlled with catalyst |
| Max. Power (SAE-NET) | kW / HP | 204 / 273 at 6,250 rpm |
| Max. torque (SAE-NET) | Nm | 366 at 4,250 rpm |
| Fuel type | | RON 91 or higher |
| Fuel tank capacity | l | 76 |
| Engine oil capacity | l | 4.7 |
| Battery | | 80D26L |
| | | |
| | | |
| Transmission | | Mazda Active Torque-Split |
| | | All-Wheel Drive |
| | | 6-speed automatic gearbox |
| Powertrain | | Transverse front engine |
| Gear Ratios | | |
| 1st | | 4.148 |
| 2nd | | 2.370 |
| 3rd | | 1.555 |
| 4th | | 1.154 |
| 5th | | 0.859 |
| 6th | | 0.685 |
| Reverse | | 3.393 |
| Final Drive Ratio | | 3.464 |
| | | |
| Suspension and Wheels | | |
| Front Suspension | | MacPherson struts independent |
| Rear Suspension | | Multi-link independent |
| Damper front | | Telescope type, double-acting |
| Damper rear | | Telescope type, double-acting |
| Stabilizers (front / rear) | mm | 32 / 18 |
| Wheel size | | 20 x 7 1/2 J |
| Tyre size | | 245/50 R20 |
| | | |
| Steering | | |
| Type | | Rack and pinion with variable hydraulic power assist |
| Steering wheel turns (lock to lock) | | 3.1 |
| Turning circle (curb to curb) diameter | m | 11.4 |
| Turning circle (wall to wall) diameter | m | 12.6 |
| | | |
| Brakes | | |
| Type front | | Ventilated discs |
| Type rear | | Ventilated discs |
| Diameter front | mm | 320 |
| Diameter rear | mm | 325 |
| Vacuum booster diameter | mm | 266.7 |
Mazda CX-9 – Performance and Weights
MZI 3.7-litre Petrol 6 A/T
Performance
Top speed
km/h
181
Acceleration 0-100 km/h
s
10.1 (U.S. spec data)
Fuel Consumption
Urban
l/100 km
18.4
Extra urban
l/100 km
9.9
Combined
l/100 km
13.0
CO 2 emissions (combined)
g/km
309
Emissions ranking
Stage IV equivalent
Weight and Payload
Min. kerb weight
kg
2,040
Kerb weight with 75 kg driver
kg
2,115
Gross vehicle weight
kg
2,712
Max. permissible front axle weight
kg
1,314
Max. permissible rear axle weight
kg
1,467
Max. permissible tow weight, trailer
without brakes
kg
750
Max. permissible tow weight, trailer
with brakes (12% slope)
kg
1,600
Max. roof load capacity (excluding
roof rack and cross bar weight)
kg
45.4
Mazda CX-9 – Power and Torque Curves