Mercedes-Benz E 63 AMG 4Matic S Improved by Vaeth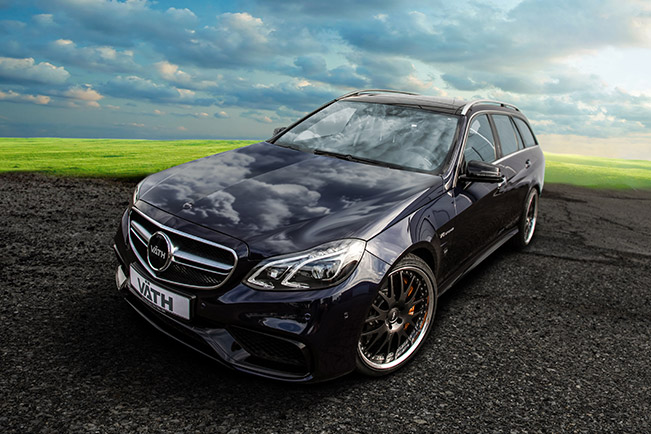 VAETH is considered to be one of the best Mercedes-Benz specialists which really knows how and what to give to Mercedes models. The tuner demonstrates sufficient skills and craftsmanship when it comes to car ennobling, power enhancement, exhaust systems, chassis, light alloy rims, carbon aerodynamics, interior and many more.
Now VAETH is redirecting its specialists gaze towards Mercedes-Benz E 63 AMG 4Matic S giving it finishing touches that enhance the model's performance. The basic engine of the vehicle produces 585 HP (430 kW) but with the VAETH tuning kit, the Swabian model comes to the mind-blowing capacity of 750 HP (551 kW) and electronically limited 1,000 Nm of peak torque. This results in Vmax of 350 kmph (220 mph). As an option, there is a MOT/certified version with 680 HP (500 kW) available as well.
What does the kit of the tuned Mercedes-Benz V 63 RS Export comprise of though? It offers modified VAETH turbo charger, VAETH oil chilling system, a downpipe system which reduces exhaust counter pressure and increases the engine power and a VAETH axle back exhaust. It costs 24,740.00 Euro.
There is an optional lowering by 20...40 mm using corresponding springs with coilovers on the front axle and electronic adaption of the rear axle for 1,166.20 Euro (plus 297.50 Euro for mounting including axle alignment).
Three part forged rims with tinted in titan stars, in 9.0 x 20 innches on the front axle have been installed too. They come with tires 265/30ZR20 (1,542.24 Euro). On the rear axle there is 11.0 x 20 inches rims with tires 305/25ZR20 (1,832.60 Euro).
The initial interior parts, such as air conditioner frame, ashtray cover in front, central cover panel, controller frame, door frames left and right, fan frame left and central decoration cover panel are highlighted in classic black carbon. This alterations costs 3,927.00 Euro plus 238.00 Euro for mounting.
Source: Miranda Media