MINI Makes One-off Paceman Adventure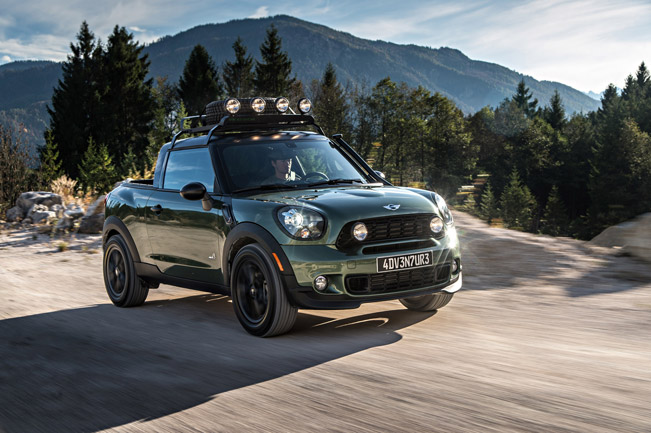 MINI Paceman Adventure is a concept project that resulted from the joint work of the young apprentices and their instructors at the BMWs plant in Munich. This Paceman has completely one-off vision. As a basis the students have used the current MINI Cooper S Paceman. They have transformed it into a two-seater with a pickup style cargo area. This MINI pick-up features all necessary off-road characteristicis, including a powerful engine, all-wheel drive, big tyres, modified suspension and much more.
To go further into details, this Paceman Adventure is powered by the Cooper S Paceman's engine which produces 184 horsepower (135 kW). In addition, it is equipped with MINI's ALL4. The passenger compartment features only two front seats. Behind them is positioned the cargo area that is suitable for luggage, tools and equipment begins. A solid roof rack can accommodate a spare wheel.
Furthermore, the pickup has the typically MINI short overhangs, but includes a modified chassis with extended ground clearance and higher front and rear clearance ramps. This MINI concept also features a snorkel-like roof level air intake, thus meaning that it could tackle a river crossing.
On the front cross member of the roof rack are mounted additional lights. The car has been fitted with off-road tyres, which prepare the concept for the perfect off-road experience.At last, the exterior paint finish is Jungle Green metallic. Unfortunately, MINI has no plans for a production version of the Paceman Adventure.
Source: MINI