Misha Designs Mercedes-Benz SLS AMG [preview]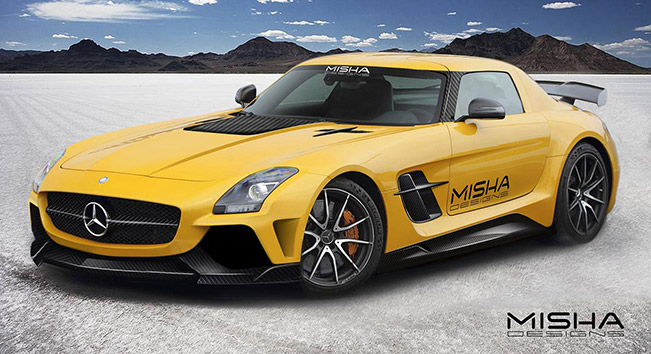 Misha Designs has unveiled their latest project based on the exciting Mercedes-Benz SLS AMG. The sports car is coming only with style improvements giving it unique presence. The engine is the well-known naturally aspirated 6.2 liter AMG V8.
The tuning specialists have developed an aerodynamics package consisting of a modified front bumper, a new front hood as well as a pair of new side skirts. At the rear, we can see also a different bumper and a new diffuser. There are two types of rear spoilers – a discreet lip and a big wing. Other highlights include improved side vents, carbon fiber A-pillars and a revised front grille. Some of the components like front bumper lip, diffuser, wing blade and side skirts are also available in carbon fiber.
Misha Designs is going to offer the full package from the beginning of this month. All parts are also available separately.
Mercedes-Benz SLS AMG is powered by a 6.2 liter naturally-aspirated V8 with extreme 571HP (420 kW) at 6,800RPM and 650Nm (479 lb-ft) of torque at 4,750RPM. 0-100 km/h in 3.7 seconds and a top speed of impressive 317 km/h (197 mph). The curb weight of the vehicle is 1,695 kg (3,737 lbs).
Source: Misha Designs