Mitsubishi Outlander Is Official Safety Vehicle For Pikes Peak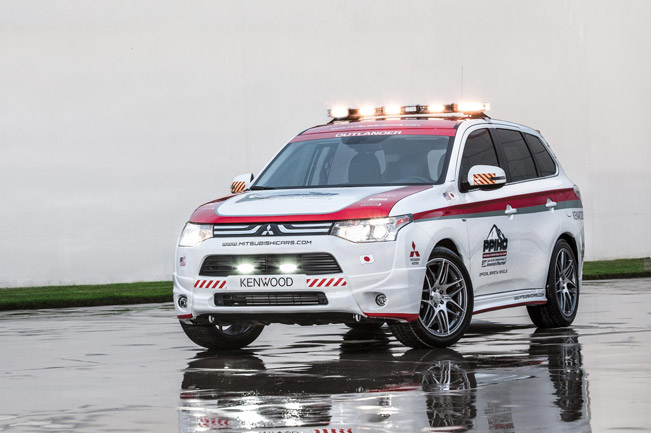 A completely redesigned 2014 Mitsubishi Outlander is going to be the Official Safety Vehiclefor this year's 91st running of the Pikes Peak International Hill Climb. PPIHC event will be held on 30th of June 30 at the breathtaking Rocky Mountains of Colorado.
The challenging Pikes Peak International Hill Climb features a road course that is 12.42 long and has 156 corners. It commences at an elevation of 9390 feet and fends at 14 110 feet.
The safety car will include technologically-advanced safety features such as Lane Departure Warning (LDW), Adaptive Cruise Control (ACC) and Forward Collision Mitigation (FCM). In addition to this, this Mitsubishi will be equipped with company's Super All-Wheel Control (S-AWC) all-wheel drive system. The latter will deliver superior stability, traction and control, which attributes are ideal for harsh weather and road conditions.
Furthermore, in the race will also be seen the legendary Mitsubishi Lancer Evolution high-performance sports sedan. It will join Outlander as a supplemental safety vehicle. As a matter of fact, both cars were built specifically for the race with support coming from AEM®, BBS USA, Cobb Tuning, DC Sports®, Kenwood USA Corporation, and Muellerized Suspension Tuning.
In addition, the brand will also make a racing return to the event with its new and more powerful 100% electric-powered prototype racing car - the MiEV Evolution II. It will be driven by two-time Dakar Rally winner Hiroshi Masuoka.
Source: Mitsubishi